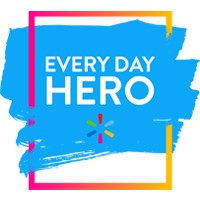 For many of our Every Day Heroes, Walmart is a place to set down roots and grow their careers.
Kevin Gaines started as an overnight stocker. Candace Vandervaart and NaToya Champion were hourly cashiers. Toshua Harrell got her Walmart start as an hourly associate in cosmetics. April Coolidge's goal was to have a second career at Walmart after the economy tanked. What do they all have in common? They've spent years, sometimes decades, growing their Walmart careers.
Here, some of Walmart's Every Day Heroes share what it means to grow at Walmart.
Hard Work and a Can-Do Attitude
For April Coolidge, a driver working out of Transportation Office 6873 in Pageland, South Carolina, working for Walmart is a dream job. "After the real estate economy crashed a few years ago, I decided to join trucking school, and had a dream to drive for Walmart one day, knowing that they only hired 'the best of the best,'" she explains. "I worked hard to protect my safety record as well as my reputation."
After just a few years, in October of 2018, her hard work paid off, and she was hired as a professional driver for Walmart.
In addition to working at Walmart, April uses her free time to support the trucking industry. She was the first female driver to be selected to join the Arkansas Trucking Association Road Team, and in January of 2019 was selected to join the elite road team member group of the American Trucking Associations' America's Road Team, which participates in events across the country to reinforce the trucking industry's commitment to safety, sustainability and professionalism.
April brings her positive energy and can-do attitude to work with her every day.
"I'm passionate about what I do and believe in exemplifying servant leadership," she says. "I strive to bring that positiveness everywhere I go.... Whether on the road, at the stores, vendors or distribution centers, I pride myself on being prompt to help anywhere needed."
April's hard work and can-do attitude have put her right where she wants to be—behind the wheel for Walmart.
"I am thankful for all the opportunities given to me at Walmart, for the opportunity to bring joy and serve the communities by doing what I call my dream job," says April.
Persistence
Kevin Gaines, a store manager at Store 6323 in Gulfport, Mississippi, started his career as an overnight stocker in 2001. Within a few months, he was promoted to overnight support manager. Then, after he finished college, he was accepted into the Walmart Management Training Program. More promotions followed: assistant manager and co-manager at two different Walmart locations.
"In December 2014, I was selected as the store manager of my current store in Gulfport," he says. "We opened on June 15, 2015, and I have been here ever since."
Kevin says he encourages his associates to strive to be their best and reach their full potential. "Never give up, never give in, and never ever quit!" he says. He's even written a book about his journey: Ext. 170: My Journey of Sacrifice, Heartbreak, and Triumph from Stocker to Store Manager!, available on—you guessed it—Walmart.com.
Commitment to Growth and Opportunity
If there's one recurring theme with Walmart's Every Day Heroes, it's the way they've worked their way up through the company.
Candace Vandervaart, store manager at Store 2483 in Las Vegas, Nevada, got her start as a part-time cashier. Over time, she was hired as assistant manager, assistant manager overnights, operations and apparel and operations assistant manager. In 2006, she was promoted to market asset protection manager for the Las Vegas market, and later served as the regional compliance manager. She transitioned to being a store manager in 2010. And in 2020, her store was named Supercenter of the Year!
Toshua Harrell, store manager at Store 1189 in Barbourville, Kentucky, started out as an hourly associate in cosmetics 21 years ago. Over the years, she was promoted to department manager, assistant store manager, co-manager and then store manager.
Her store, which has a reputation for friendly associates and a tight relationship with the community, recently won Hometown Store of the Year.
Similarly, NaToya Champion started working as a cashier in 2000. She would later be an assistant store manager trainee, a co-manager, a store manager and an academy manager. In 2021, she was promoted to developmental market manager. "I really just love working with the people and being around people and meeting new people," NaToya says.
Between July 22 and August 18, look out for more stories about growth, giving and getting it done!