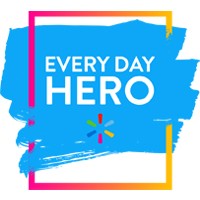 This Every Day Hero shares her passion for service wherever she goes.
April Coolidge, a driver for Walmart's Southeast Region, is committed to faith and family.
April describes herself as a spiritual individual who prays daily. Though she loves her job at Walmart—she calls it her dream job—faith and family are at the center of her life, and devotion to both help her strive to be the best person she can be.
"I'm very positive and cheerful," she says. "I'm passionate about what I do and believe in exemplifying servant leadership."
April is also a real estate broker. It was once her primary career, but after the economic downturn a few years ago, she decided to go to trucking school. It's not as big of a leap as you might think: April's father was a truck driver, and she calls trucking the "family business."
From the beginning, April had her sights set on driving for Walmart because she knew the company only hired the "best of the best."
Landing Her Dream Job
"I worked hard to protect my safety record as well as my reputation, and in October of 2018, I fulfilled my dream of becoming a professional driver for Walmart," April says. She now works out of Transportation Office 6873, in Pageland, South Carolina. Originally from Billings, Montana, April moved to Charlotte, North Carolina, when her father relocated 25 years ago.
In addition to working at Walmart, April uses her free time to support the trucking industry. She was the first female driver to be selected to join the Arkansas Trucking Association Road Team, and in January of 2019 was selected to join the elite road team member group of the American Trucking Associations' America's Road Team, which participates in events across the country to reinforce the trucking industry's commitment to safety, sustainability and professionalism.
"I attend a variety of events and have been involved in schools, where I go and share the road program to educate students about safety on our roads," she says.
Joy In Service
April says she tries to bring her positive attitude with her wherever she goes, bringing joy and serving communities, especially during times of crisis. That means service on and off the job: outside of work, she volunteers for the elderly and she has volunteered for Samaritan's Feet, a non-profit that gives shoes to children in need.
"Whether on the road, at the stores, vendors or distribution centers, I pride myself on being prompt to help anywhere needed," she says. "My manager says I have a contagious energy and a smile that characterizes me."
Between July 22 and August 18, look out for more stories about growth, giving and getting it done!