Congratulations to Luis Alzate, who's journeyed from overnight associate to store manager and U.S. citizen!
Luis Alzate came to the U.S. from Colombia with his family when he was 15. He didn't speak any English when he arrived, but he learned quickly. Right out of high school, he joined Walmart as a part-time overnight stocker in order to make money for college. (This was before the days of Walmart's Live Better U program—which makes college free to associates.)
Eight years later, at just 26 years old, Luis became store manager of Walmart Supercenter 5012 in Trenton, New Jersey. How did he do it? His strong work ethic, his motivation to learn and great Walmart mentors were key.
"Walmart changed my life completely. And I love every minute of it!" –Luis Alzate, Store Manager

His Path
After a year of working nights, Luis became Dairy manager, then Produce manager. That's when he met Market Manager Kevin Hudgins. Kevin mentored Luis and supported his growth. Luis soon became Fresh assistant manager for Store 3159 in Teterboro, New Jersey. "The Teterboro store is across from a private airport, so we got a lot of one-time visitors," Luis recalls.
As Fresh assistant manager, Luis took an active role in offering tours to store visitors—including Walmart CEO Doug McMillon and other company leaders. "They would ask about the business in Fresh and what we were doing differently," explains Luis. "I learned a lot. That experience helped me grow to the next level."
He's grateful to the Teterboro store manager at the time. She gave him good advice on how to showcase his department during VIP tours. "I learned that if the store is ready to serve our customers, then we're ready for a visit from Doug McMillon himself," Luis says. "Above all, we're here for our customers. They're the ones spending their hard-earned money with us."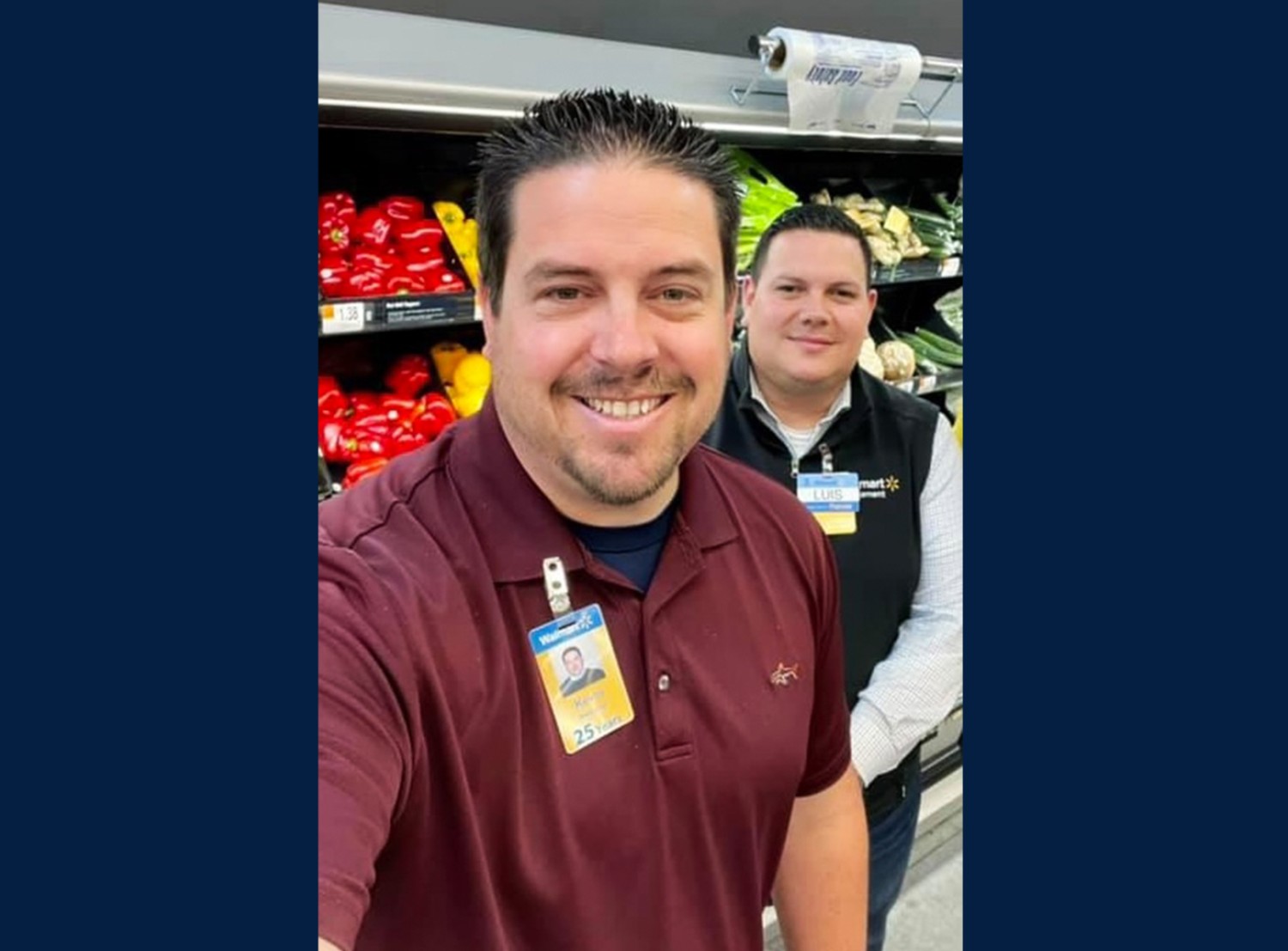 After a brief time as a store lead, Luis became store manager at Supercenter 5012 in August 2021. Even as store manager, Luis continues applying the lessons he learned from mentors—for example, Kevin Hudgins (pictured above with Luis).
"Kevin taught me to cater to the community we serve," he says. A true retail maverick, Luis studied the community and was not afraid to make big changes. When he amped up space for more Goya and Iberia products—popular items for the area's Hispanic and Caribbean communities—revenue went up, way up! The Supercenter's revenue grew from $89 million in 2021 to a projected $125 million in 2022.
"I took a big risk, and we got a big reward," he says. "I lead an amazing team of associates. They deserve all the credit for our store's success. They motivate me to do better every day."
Family Values
Luis believes his strong work ethic came from his parents, who worked hard to provide for their family. They went through tough times in Colombia, and the family came to the U.S. seeking a better life.
His mother, Cruz Gomez, is an associate at Walmart Store 3159. (And yes—she's very proud of her son's success!) Cruz continues to inspire her son. "My mother became a U.S. citizen and inspired me to do it," he explains.
"I've been a resident for 11 years. This is my country now. I love the culture and wanted to become a U.S. citizen." Luis applied for citizenship in July 2022, studying hard for the civics test. On Dec. 6, 2022, he had his interview.
He passed the test, took the oath and is now officially a U.S. citizen! "It was an amazing day!" he says, smiling.
When Luis welcomes new associates, he shares his story. "I tell them that opportunities are absolutely here, if you work hard and want it enough," he says. "I appreciate the opportunities the company has given me. Walmart changed my life completely. And I love every minute of it!"