A driver trainer, mentor and ambassador's safety training kicks into gear.
Ask any Walmart driver, and they'll tell you: They focus on safety because they want to do everything possible to avoid an accident while they're driving.
Chad Chamberlain is a great example of driver safety in action. He just celebrated six years with Walmart and is a certified driver trainer, driver mentor and driver ambassador.
In these roles, he teaches other Walmart drivers how to be safe behind the wheel:
As a driver mentor, he brings along newly hired drivers for a week. He shows them everything about safety practices, operating the computer, the dispatching system, Walmart policies, docking, trailers, loading and unloading.
As a driver trainer, he assesses potential Walmart drivers as they're on the road and performing maneuvers.
As a driver ambassador, he's in contact with half a dozen stores that notify him of any issues in the receiving area or with drivers.
Based out of Transportation Office 7026 in Grantsville, Utah, he has about 500,000 miles with Walmart and a million miles total. He's been around big rigs his entire life. His dad (pictured above, left, with Chad) drove for decades, and Chad rode along with him during many summers.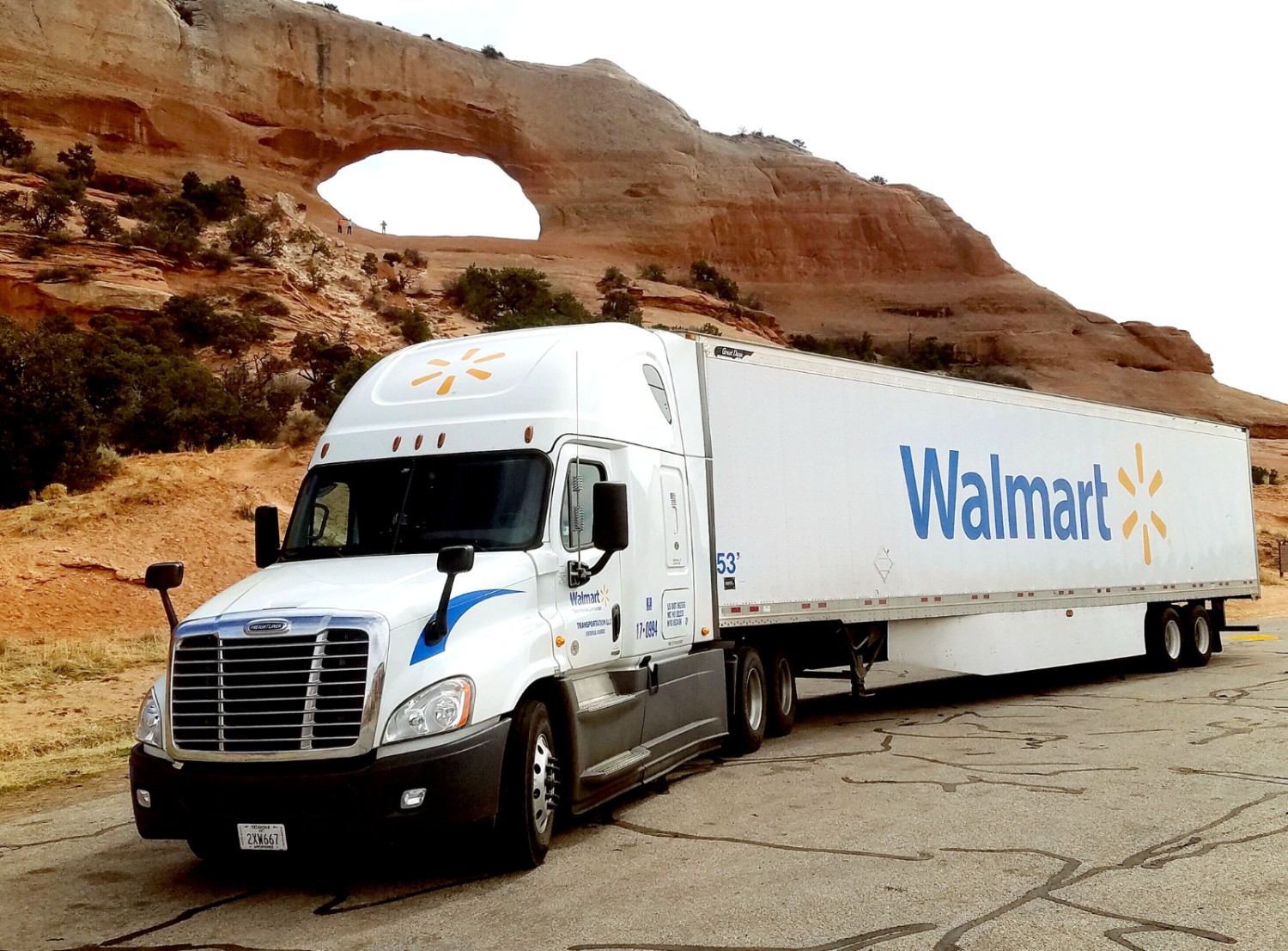 When Safety Training Kicks In
This past summer, on a beautiful July morning, Chad was driving north near Riverdale, Utah, when he noticed a red pickup truck pass on his left. When it was 500 feet ahead, he saw a puff of smoke—which he now knows was a right front tire blowout.
The pickup immediately veered to the right across four lanes of traffic—directly in front of Chad's fully loaded, 70,000-pound rig.
"The pickup hit the concrete barrier, flew straight up in the air and flipped. Then it slid on the barrier and started to roll—dangerously close to my truck. I got over as far as I could within my lane, but with a car in the left lane, I couldn't change lanes safely."
Chad hit the brakes—hard!—triggering his truck's automatic camera, which started recording.
"I thought the pickup truck was going to hit me. It came within inches of my truck. I braced for impact. I saw its back tires go right past my passenger window," he recalls. "I got past it and didn't hear anything hit. I focused on getting off the road to help."
Helping Hands and Miracles
Chad safely pulled over and ran back to the pickup truck, which had landed on its passenger side.
"I was surprised to see the driver and her 10-year-old son standing in the pickup's cab, which was turned sideways. They were just staring out. It was eerie," Chad says. "The pickup hit the barrier so hard that it knocked the driver's shoes off. It's a miracle nobody was hurt."
The truck's doors wouldn't open easily, so Chad used a putty knife and a 2x4 to pry open the shattered windshield and pull the family out as they waited for emergency personnel. A nurse and an FBI agent pulled over and rushed to help.
"Then, to our surprise, a toddler climbed out of the back seat! A little girl, age 2 or 3. We didn't know she was in there! I scooped her up and gave her to the nurse."
Miraculously, the only injury Chad saw was a small cut on the boy's hand. An ambulance took the family for further evaluation.
Chad gave his statement to law enforcement and then continued on his trip, arriving safely and on time at his store.
Always Learning, Always Watching
"If it had happened 30 seconds earlier, I would've hit them dead-on, and the outcome might've been very different," Chad says. "It really makes you think."
The incident happened on Chad's first day back driving after six weeks helping build an AIMS course in Red Bluff, California. AIMS—casually known as Always Improving My Skills—courses are a great way for drivers to practice their skills.
"My safety training kicked in—I knew exactly how far over I could get in my lane without causing another wreck. Familiarization with my truck helped me do some very tight maneuvering," explains Chad. "I'm thankful that Walmart gives us on-the-job training with a focus on safety."
"It's like my dad told me: 'Never get too confident behind the wheel of a truck. Always be learning and watching, because everything's changing every second.' I live by those words," Chad says.
Between September 11—17, 2022, we're celebrating our Drivers and Techs. Watch for more stories about the amazing associates who do more than deliver every day!