This Walmart driver goes the extra mile, no matter what he's doing.
Ken Geer does not settle for the way things are. If he sees something he can make better through volunteering, it's as good as done.
As a truck driver, Ken has been on the road for 35 years, boasts more than 3.5 million safe driving miles and started driving for Walmart in December 2020. He's dispatched out of Bentonville, Arkansas.
"I wish I had come to work for Walmart sooner!" Ken exclaims. "They treat us very well. The trucks and trailers are the best I've ever driven. They're newer, nicely equipped and extremely well maintained."
Banding Together
Ken, his wife of 36 years, Denise, and their three daughters live near Bentonville in the town of Gravette, Arkansas. When their daughters were in high school, the Geers started volunteering for the Gravette Lion Band Boosters.
Though their kids have graduated, Ken and Denise continue to support the organization with fundraisers throughout the year. Funds and donations help fill in the gaps when the school can't afford what band students need.
"If a kid can't afford to pay for their uniform, we take care of it. Nobody knows who's getting help," Ken explains. "Everyone in the band gets the same uniform, so everyone feels equal and included. We bought them all new shirts, gloves and shoes this year."
Ken and his best friend tow the band trailer to Friday night football games and to competitions every Saturday in October. "We also feed the band before each event, so they don't have to spend their own money at the concession stand."
Ken is humble about his volunteer work with the Band Boosters. "My wife is treasurer, my best friend is president, and his wife is secretary," Ken says. "I'm just the cook."
Cooking Up a Storm
But what a dedicated cook he is! Each August during the Gravette Days celebration, Ken smokes 200 pounds of meat for a pulled pork sandwich fundraiser.
"We sold out this year! We raised over $2,000 to help the kids!" he says.
Ken also smokes pork from November through February to sell sandwiches at school basketball games. "I enjoy it a lot."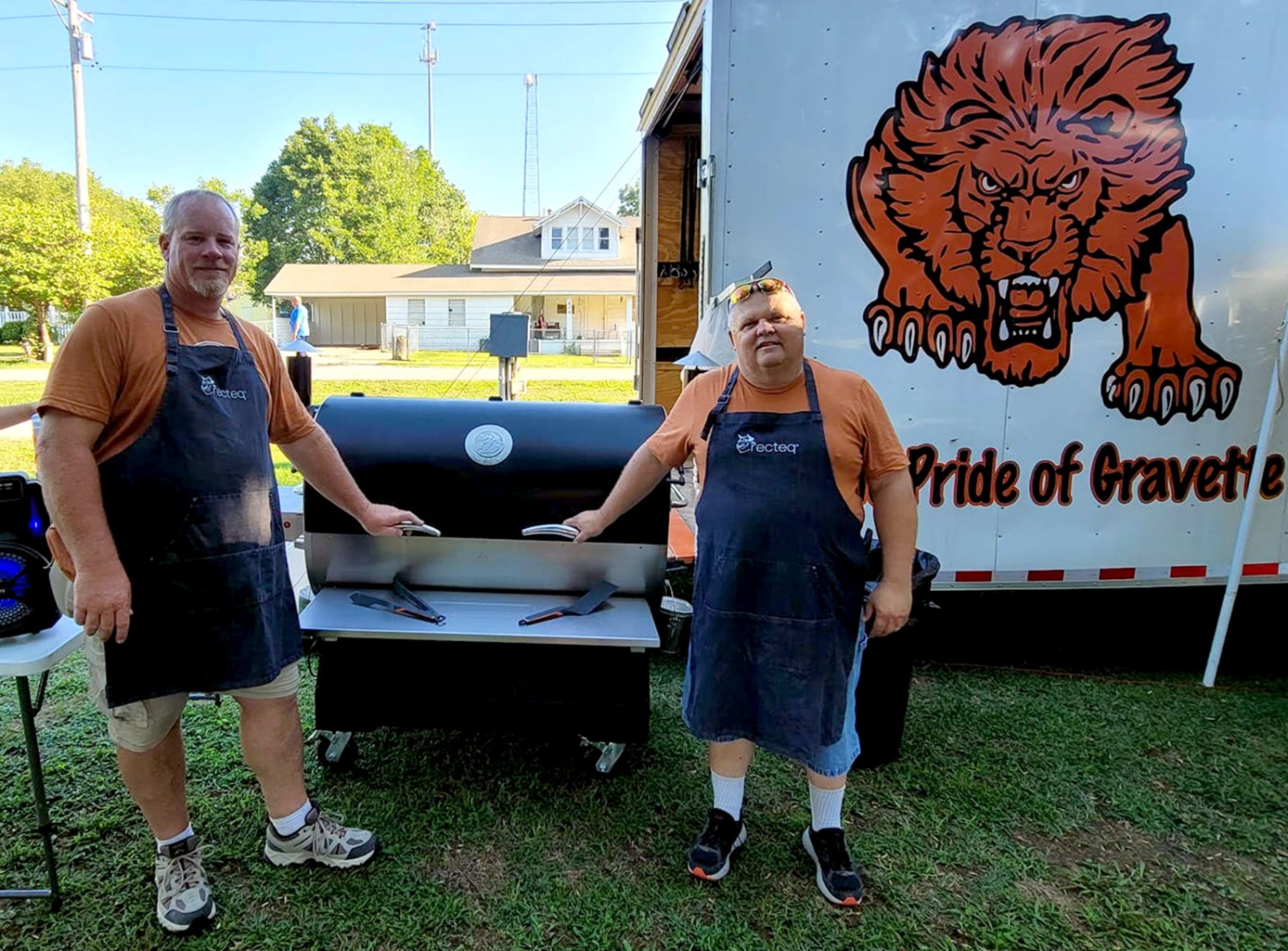 When he's not boosting the band, Ken helps transport equipment to Special Olympics events for their oldest daughter. She participates in Track and Field events.
"Our daughter enjoys competing, and we enjoy helping the kids. They're wonderful, wonderful kids to be around."
Sparking Joy
In addition to smoking meat, Ken has another pastime that he puts to good use. A former firefighter, he is now a licensed pyrotechnician. "It was a hobby that went wild," he says with a laugh.
In 2022, he operated fireworks displays for big shows at the Walmart Arkansas Music Pavilion and in Branson, Missouri. In exchange for doing these shows free of charge, Ken gets fireworks at cost.
"As a surprise for the kids, we'll have fireworks displays at Gravette High School's home football games."
When shooting fireworks, Ken wears full fire gear and follows strict safety protocols. "It's no different than driving. When you follow safety regulations, pay attention and look out for others, you can prevent accidents and incidents," says Ken.
Ken does everything he can to make his part of the world better by volunteering his time, talent and effort. He's grateful that his Walmart manager, Waylon Wishon, is supportive of his volunteering.
"I care about my community, and I like to help out where I can," Ken said. "I'm glad to be a part of Walmart because they really give back to the community, too. I guess my working for Walmart was meant to be!"
Between September 11—17, 2022, we're celebrating our Drivers and Techs. Watch for more stories about the amazing associates who do more than deliver every day!