A specially outfitted fleet of Walmart trucks got back on the road to Alaska this year.
It's a long, long way from the continental U.S. to Alaska—about 2,600 miles. And the roads can be treacherous: Beyond weather-related challenges and extremely low temperatures, wildlife poses a very real threat.
So how does Walmart keep its nine stores in The Last Frontier stocked with produce and meat? As Brad Spitz, a Walmart market manager in Alaska, says, "Just because you live in Alaska, doesn't mean you have to have limes that are two weeks old."
To answer that question, let's turn the calendar back about five years. It's July 2017—long before a global pandemic, inventory hiccups and international supply chain issues. Drivers (and spouses) Michelle and Clayton Salikie had just completed one of the last runs to Alaska by Walmart's private fleet.
Walmart had recently decided to use third-party contractors to deliver merchandise to Alaska. Over time, though, the third-party system broke down—particularly during the pandemic, as many commercial drivers protested the vaccine requirements needed to cross through Canada. 
Deliveries dropped from about 18 trucks a week to three or four the week before Thanksgiving, explains Corey Nichols, senior manager of offshore transportation for Walmart, based in Wasilla, Alaska.
Some deliveries moved to ships. But while drivers averaged 65 to 72 hours to get from the distribution center in Washington state to Alaska, ships could take five to six days!
"Everything was taking an extra two to three days, which means two to three less days of freshness in the customer's refrigerator," Corey says. Some items with sell-by dates would only be on shelves for a day or two before being taken down.
Walmart initially looked into other options, including hiring an additional third-party vendor or shipping by air, but, explains Brad, it soon became clear those options weren't going to work.
Finally, Walmart decided the best choice was to invest in its own drivers and equipment to make these challenging Alaska deliveries possible.
On The Road Again
Getting Walmart's private fleet back on this route was no easy task. Besides the long, barren miles of road, there is frigid cold, freezing rain, white-out conditions from heavy snow, limited daylight and the risk of colliding with moose—not to mention limited cell reception.
Drivers on the route work in teams and go to survival training. "So in the event that they do get in an accident or in a situation that is dangerous, they have some basic skills to ensure they don't freeze or anything like that," explains Corey.
So far, Walmart has equipped 11 trucks for the route, but more are still being built. There are also 21, 53-foot refrigerated trailers for meat and produce.
"Some are single temp and some are tri-temp, so we can put the meat at one temperature, produce at one temperature," Corey says.
Benji Calvert is the service shop manager at Regional Distribution Center 6737 in Hermiston, Oregon, where the equipment is serviced. "We're hypersensitive when we look at these trucks because they've got a long journey in really hazardous conditions," he says.
"We inspect the trucks fully every time they come back. They tend to have a lot more road debris damage due to rocks. In the wintertime, a lot of times we'll have to defrost them in our wash bay for a day so we can actually get under them because there's so much compound ice that is built up on them." 
Benji describes some of the unique features of these rigs. Trailers are specially built with thicker walls to withstand extremely low temperatures, since produce and meats must be cool, but not too cool.
"Moose bumpers" help protect the tractors from serious damage if they happen to collide with a 1,400-pound, 6-foot-tall moose. 
The trucks have larger fuel tanks, special heaters for the fuel system, larger tires, greater horsepower and more ground clearance.
Given the extreme Alaskan temperatures, Walmart disabled the system that automatically shuts a truck off after it's been idling for three minutes. Benji explains that the temps can dip to negative 50 or 60 degrees, so drivers often run their trucks 24/7.
"So far, we've made seven trips to Alaska with minimal issues," says Benji. "But the true test is going to be in winter, when the snow starts flying."
A Husband-and-Wife Team
There are currently four teams of drivers that take this route. "It's unique because it's team drivers so that the truck is always moving," Corey says.
And that brings us back to Michelle and Clayton Salikie. As you'll recall, they were among the last Walmart drivers to head to Alaska in 2017. Well, they were the first drivers to deliver to Alaska in August 2022.
"They delivered the final load over the road," Corey says. "So we thought it only fitting they delivered the first load here this year."
At 73 years old, Clayton has 53 years of driving under his belt—22 of those for Walmart. Clayton says he was feeling ready to retire but agreed to put in another year when Walmart offered him the Alaska route again.
After all, it's a journey he knows well. He had previously driven it for Walmart for 10 years, with Michelle joining him about six months after he started. "I like the scenery and the animals," Clayton says. "And being with the wife, that's the main thing."
Michelle has 41 years of driving experience, 19 with Walmart. When they're on the road to Alaska, one drives while the other sleeps.
The couple were told they did the first run to Alaska 10 hours faster than the third-party carriers and the second run 15 hours faster.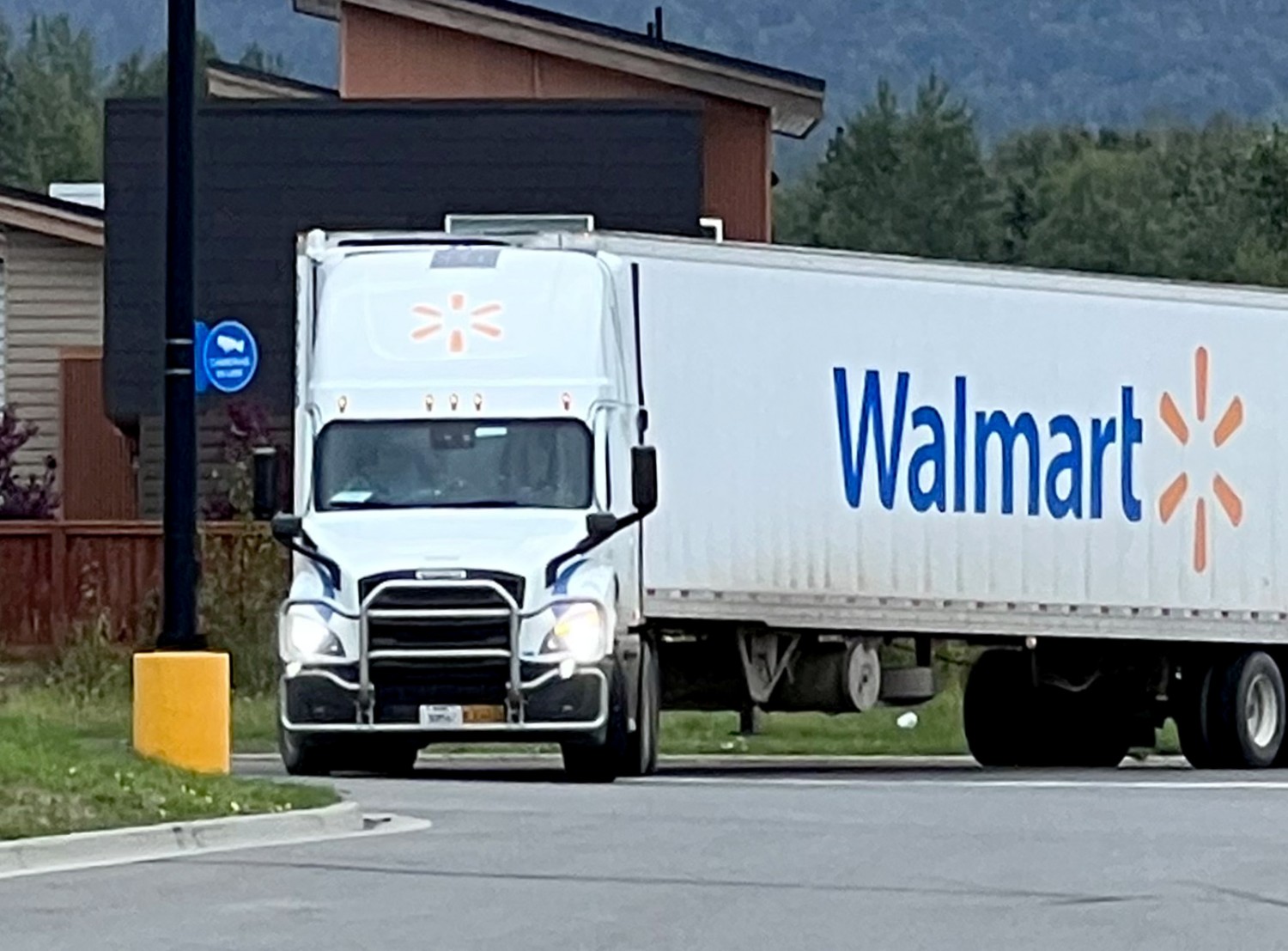 A Warm Alaskan Welcome
Brad says Walmart associates were excited to see the Walmart trucks roll up to their stores. In fact, the drivers were treated like celebrities. For some folks, it was the first Walmart truck they had ever seen in Alaska. And many were impressed by the husband-wife team.
The goal is to have Walmart drivers deliver 50% of the volume, with third-party carriers handling the rest. But if needed, Walmart will be equipped to ship 100% of its over-land deliveries to Alaska.
"It's been weird not seeing Walmart trucks up here," says Brad. "It's very comforting to start seeing them again. Our associates were ecstatic."
Between September 11—17, 2022, we're celebrating our Drivers and Techs. Watch for more stories about the amazing associates who do more than deliver every day!