We go behind the scenes on the journey to becoming a Walmart driver.
Brenda Andrade is brave, and she loves to learn. But the first time she climbed up into the cab of an 18-wheeler, she (understandably!) had a moment of self-doubt.
"I thought, 'This is going to be impossible to learn—it's so different from driving a car!'" she recalls.
Fortunately, she pushed aside her doubts and went on to become a Walmart driver based in De Soto, Texas, after completing Walmart's Private Fleet Development Program. Over the course of a 12-week program, Supply Chain associates earn their commercial driver's license (CDL) and start driving for Walmart. And now, more associates can take advantage of this opportunity through the expanded Associate-to-Driver program.
Safety First
Brenda has worked for Walmart for 11 years, as a warehouse loader and an Environmental, Health and Safety associate. When she saw the invitation for driver applications, she took a chance.
She had both a good driving record and a solid history as a Walmart associate. Brenda was excited when she was accepted into Walmart's driver training program.
She started with four weeks of commercial driver training with a third-party company and earned her CDL. Next, she attended Walmart's eight-week Fleet Development Program.
"The experience level of Walmart's Certified Driver Trainers (CDTs) is amazing! I learned so much from them, and they were very patient in explaining maneuvers in great detail until we got it," she explains.
"My trainers focused on safety, telling us over and over that safety is the most important thing." The Fleet Development Program teaches drivers through a combination of classroom study, maneuver practice and on-the-road experience.
"One of the hardest maneuvers to learn is backing up your rig in between two trailers," Brenda says. "The CDTs taught us to take our time. They told us that if we can't see where the back of the truck is—to get out, walk back there, and see how much space we have."
Now, Brenda successfully backs her rig into DC loading docks three or four times per shift!
Training That Sticks
Brenda appreciates Walmart's thorough training process. "I've met other drivers whose company only gave them four weeks of training, total. Walmart did a great thing by giving us an additional eight weeks of training."
And it didn't end there: After graduating from the program, Brenda spent another six weeks driving with a trainer. Systematic training like this is one reason why Walmart is known for having the safest drivers on the road!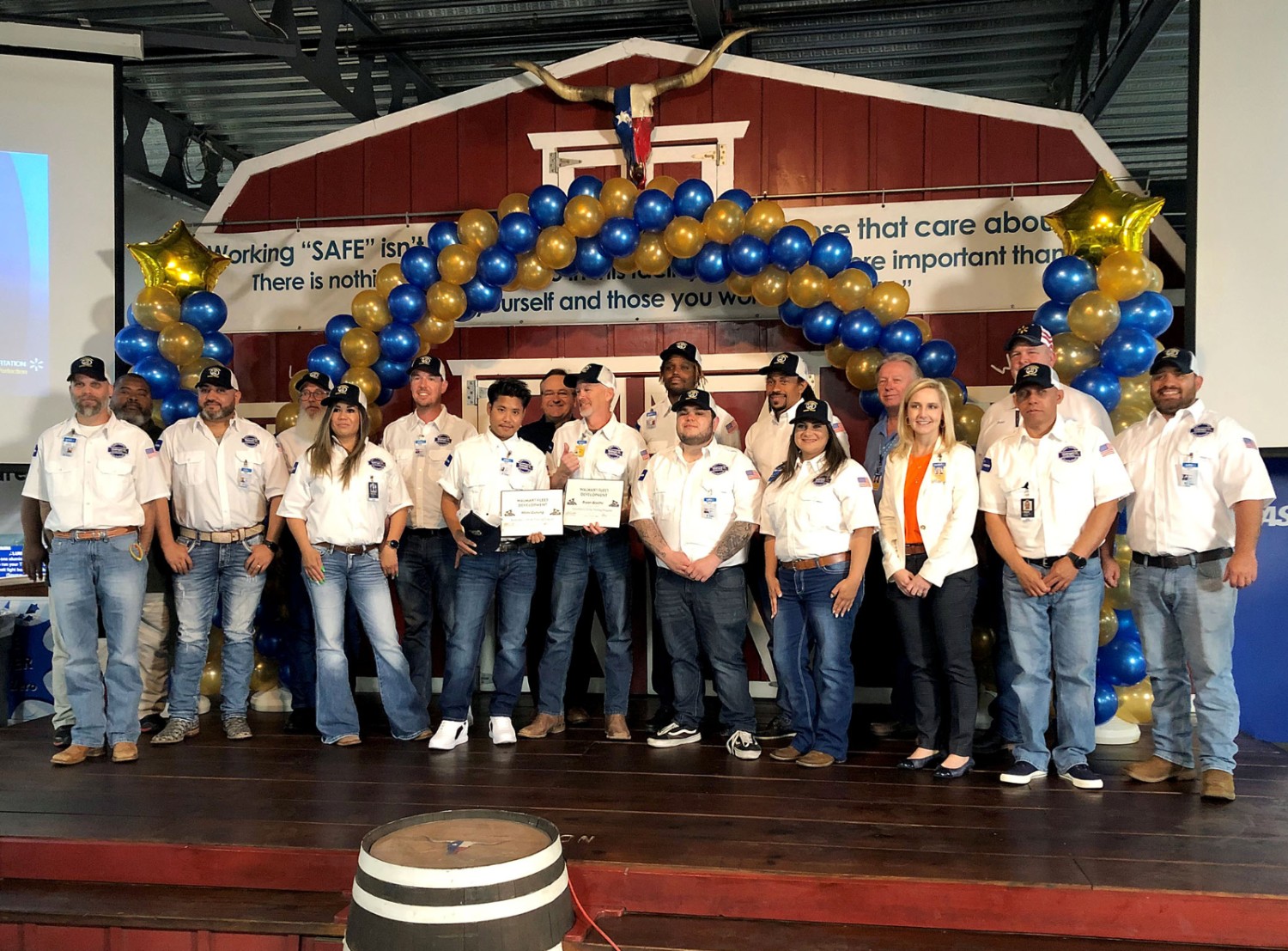 Of the 13 people in her class, there was only one other female. Brenda encourages more women to become Walmart drivers.
"Yes, it takes work, but with practice and encouragement from your team, you're going to get there," Brenda shares. "If I can do it, you can do it!"
Raising Courteous Drivers
Brenda is a single parent to two boys, ages 11 and 14. "I'm teaching my sons to be respectful drivers. Every time we're on the road, I explain to my sons that you should never cut in front of an 18-wheeler," she says. "Our rigs weigh up to 80,000 pounds, so it's impossible to stop quickly if someone cuts you off."
At the end of the classroom portion of the training, associates graduate with their CDL, months of real-world experience under trained instructors and a dedicated mentor to help them smoothly transition into their new role. In lieu of a graduation cap, they get something just as distinguished: a Walmart Private Fleet shirt and trucker cap.
"I'm really happy working for Walmart, " Brenda says with a smile. "I feel very blessed that it gives me so much opportunity."
Between September 11—17, 2022, we're celebrating our Drivers and Techs. Watch for more stories about the amazing associates who do more than deliver every day!