Live Better U helps two Georgia women expand their education.
Nydia Long and Ashley Thao have a lot in common.
For one thing, they're both vision center managers for Walmart. Nydia works at Store 780 in Monroe, Georgia. Ashley works just 20 minutes away at Store 5252 in Loganville, Georgia. Both are moms to three children. They are also friends.
And recently, both women managed to squeeze college into their busy lives. They graduated in spring 2022 with bachelor's degrees paid for by the Live Better U program.
Nydia, who joined Walmart 17 years ago, earned a Bachelor of Science degree in health care administration from Purdue University. She also got her license to be an optician.
Ashley has been with Walmart for seven years, and she graduated with a Bachelor of Arts degree in business administration from the University of Massachusetts.
Back to School
When Nydia returned to school through Live Better U, her coursework was all remote. "I thought it was great," she says. "You can schedule it early morning or late at night. It just depends on your schedule."
Though Ashley started pursuing a nursing degree before joining Walmart, she ultimately decided the program was too expensive and put her studies on hold.
When she heard about Live Better U, she was already in a Walmart apprenticeship program that would help her get her optician's license. Adding a business degree on top made sense for her, Ashley explains. "I thought it would really help me out with the business operation."
Studying for her license and a degree at the same time—while also working—got a little hectic. "It was crazy! On top of that, I'm a wife and I'm a mother of three children. So it was a lot," she admits.
Even so, she encourages others to take the plunge and pursue an education as well.
Motivating Moms
"It's a good risk," Ashley says. "Take the time to do it, whether it's one class a semester or one class a quarter. You can get there, especially if Walmart is paying for the degree. It's a clear choice of 'why not?'"
Nydia agrees, saying, "I think that it's just a good opportunity for anybody!"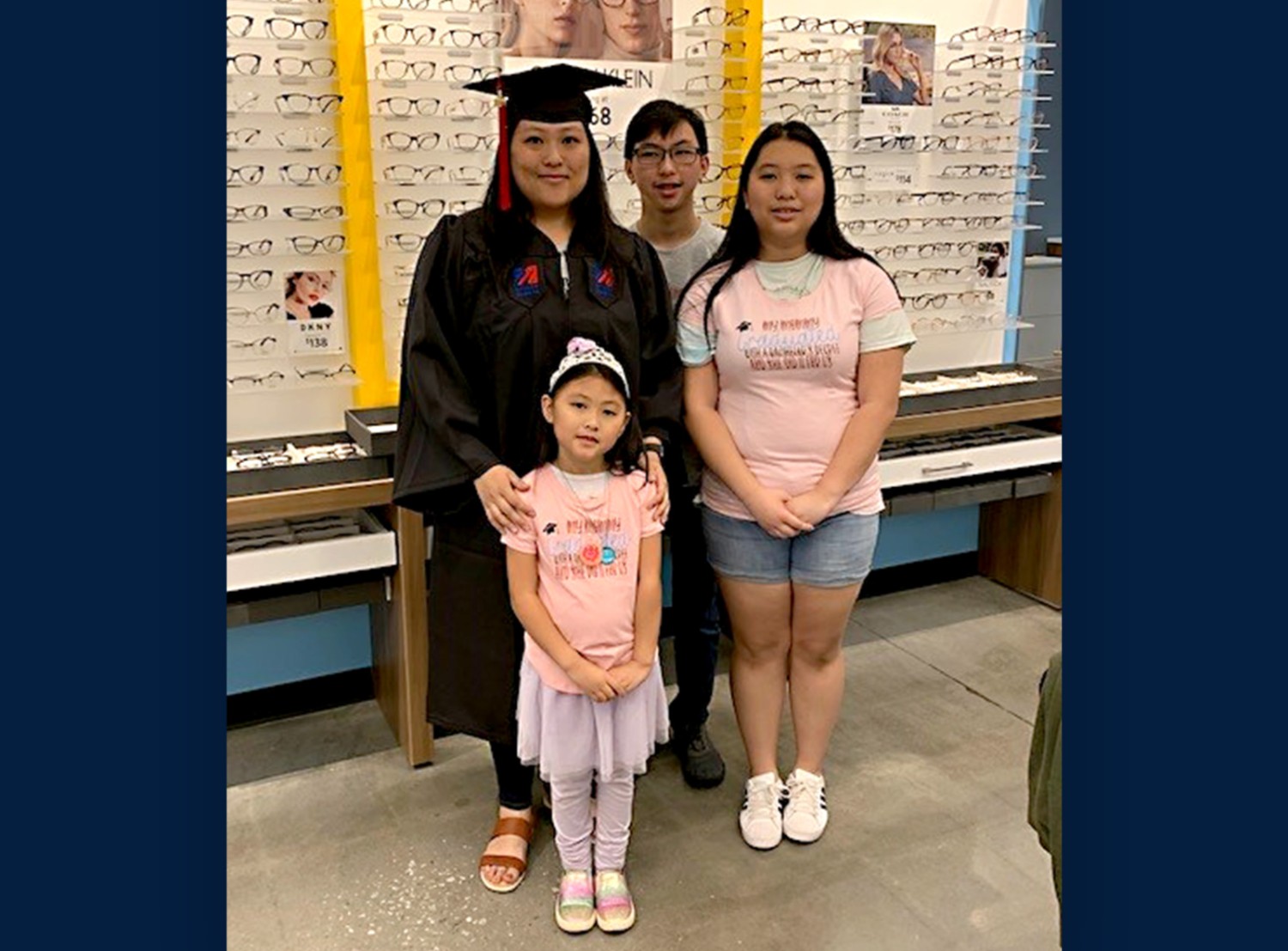 When they graduated in May 2022, Ashley (pictured above with her kids) had T-shirts made up for her and Nydia's kids. They read, "My mommy graduated with a bachelor's degree and she did it for us."
They couldn't attend graduation ceremonies at their remote universities, so the women put on caps and gowns and headed to Walmart with their kids to celebrate. It was their way of encouraging others at the store to go for their dreams.
"We were celebrating with our associates and trying to motivate them," explains Nydia (pictured below with her kids).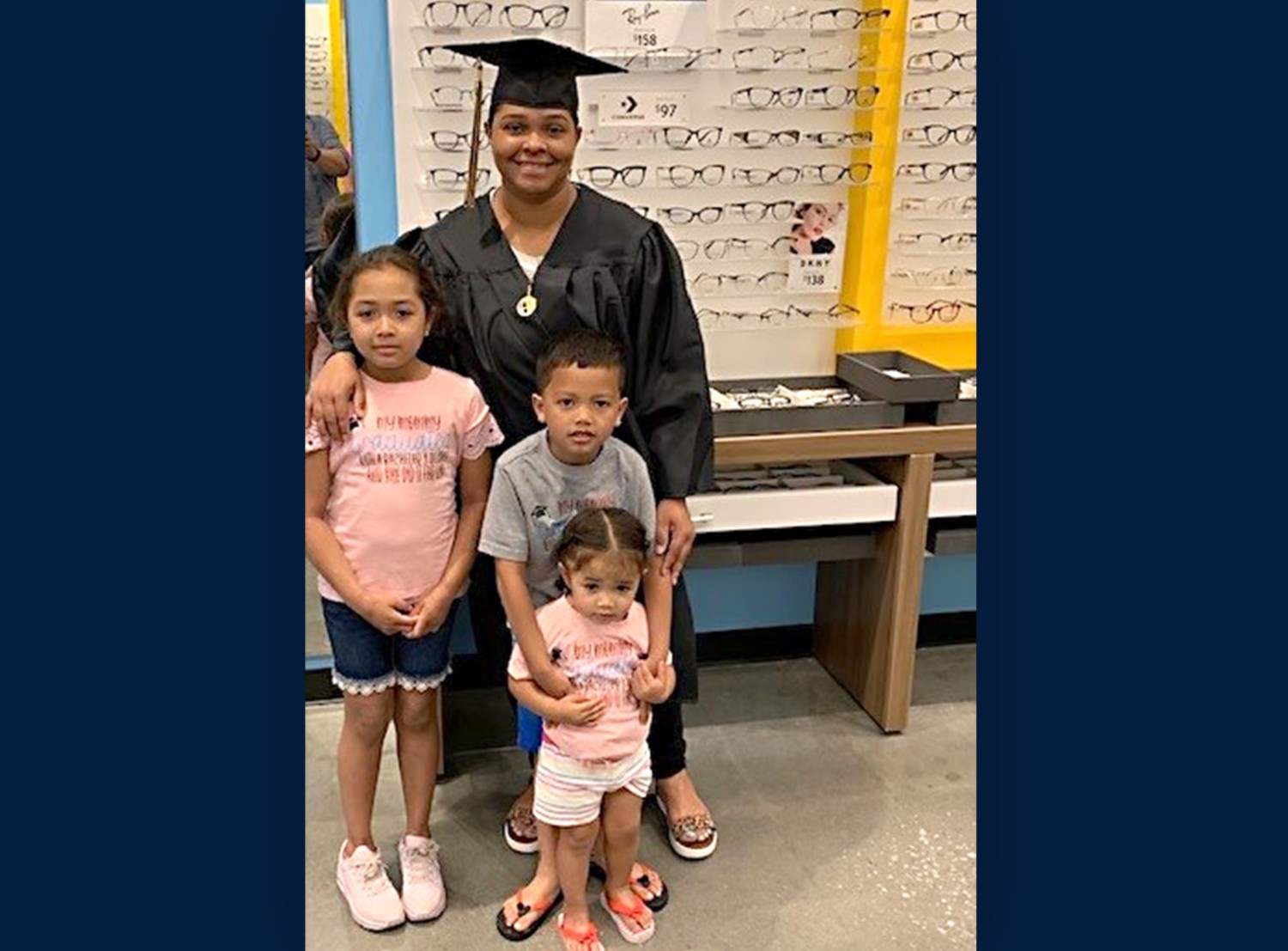 When Ashley talks to new associates, she makes sure to promote Live Better U. And Nydia says she's urging her cousins to work at Walmart and get their degrees through Live Better U.

"I'm surrounded by many people close to my age, and they're telling me how they're still paying student loans or they just bought a house but they're still having to pay their student loans with interest. It's just been very challenging for them," Nydia says.
When Nydia and Ashley started their educations through Live Better U, the program cost $1 a day. Since August 2021, the program became free to field associates.
Through Live Better U, Walmart pays all the costs of college tuition and books for associates. The online programs offer associates like Nydia and Ashley the flexibility to study on their own schedules, around the needs of work and family.
Ready to go back to school? For more information, eligibility requirements and to apply for Live Better U programs online through the Guild Education website, visit OneWalmart > Me > My Career > Education Programs or LiveBetterU.com. Guild Education is our third-party partner providing all education benefits under the Live Better U brand.