After 50 years with Walmart, Marshall Johnson is still smiling.
He walked into Walmart in 2020 just like he did in 1970, grinning from ear to ear. October 21 marked a milestone for Marshall Johnson that few associates have reached: 50 years with the company. It's a ride that began in Kentucky and hasn't slowed down since.
"I just feel wonderful. I feel great!" Marshall said, wearing that familiar smile. "Walmart just sticks with you. I sure do thank God that Walmart has put up with me for all of these years."
Marshall is currently a maintenance associate at Store 665 in Campbellsville, Kentucky. Five decades of memories could fill a book, but one experience Marshall is quick to mention is his visit to Bentonville more than 30 years ago that included lunch at Sam Walton's home.
"Back then, we took a bus. We got close to Bentonville, and you could see the lakes. I just had a ball," Marshall said. "He fed us Kentucky Fried Chicken, and we just sat around and talked to each other. I think Mr. Sam was original. He was a great man. Not too many bosses like him."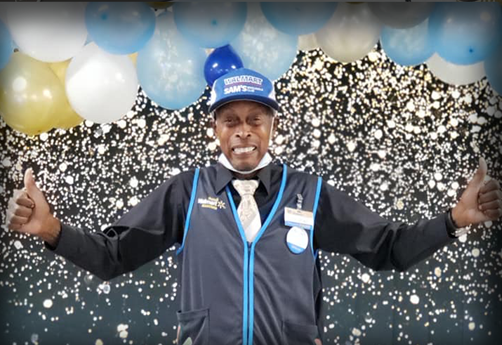 Marshall's store manager, Adam Pelley, says Marshall's dedication to the company shines through in every task he completes.

"It inspires me to be better. Marshall has that effect on everybody in the store," Adam said. "Marshall is the face of Walmart. Everything about Marshall is Walmart. He talks Walmart. He preaches Walmart."
When asked if there is any advice he would pass on to new associates, Marshall keeps it simple: "Work hard, and buy Walmart stock!" He says a lot has changed since his first day on the job, but his approach to each new day has not.

"Coming in with a smile on my face ready to take off and go!" Marshall said. "Walmart is a great company, and just the name of Walmart makes me feel good."
Some might find it fitting that when Marshall started his career at Walmart, the No. 1 song in the country was "I'll Be There" by the Jackson 5.
Fifty years later, he still is. And so is his smile.