This import distribution center is dedicated to building community.
Leonard Witt, the general manager at Import Distribution Center 7078 in Elwood, Illinois, sees community connection a little differently than retail managers do. After all, customers aren't in and out of the distribution center every day. So if community doesn't come to them, IDC 7078's associates and managers go out to the community.
The results? Thousands of dollars in grants for community organizations, hundreds of hours of volunteer time and dozens of bikes for local kids.
Leonard, known as Leo, has been with Walmart for 35 years. "It's in my DNA to want to give back," he says.
Years ago, he decided that if he was ever put in a position with even a little bit of decision-making power, he knew he'd do what he could to make a difference. "I would help make sure we give back to the community."
And Leo has definitely lived up to his word.
Community Spirit in Action
With both managers and associates pitching in, the IDC has maxed out its VAP (Volunteerism Always Pays) hours at the Northern Illinois Food Bank. The distribution center has volume on its side: there are roughly 700 associates and 70 managers working in its two vast buildings.
"We've done that religiously since we've been here," Leo says. "So we've maxed out all their VAPs for three years."
All that effort led to IDC 7078 earning this year's Helen R. Walton Excellence in Community Leadership Award for the Supply Chain division.
Leo isn't one to hog the spotlight: He attributes the IDC's win in large part to the efforts of Marty Perry (pictured below), his special projects operations manager, who has been with Walmart for 20 years.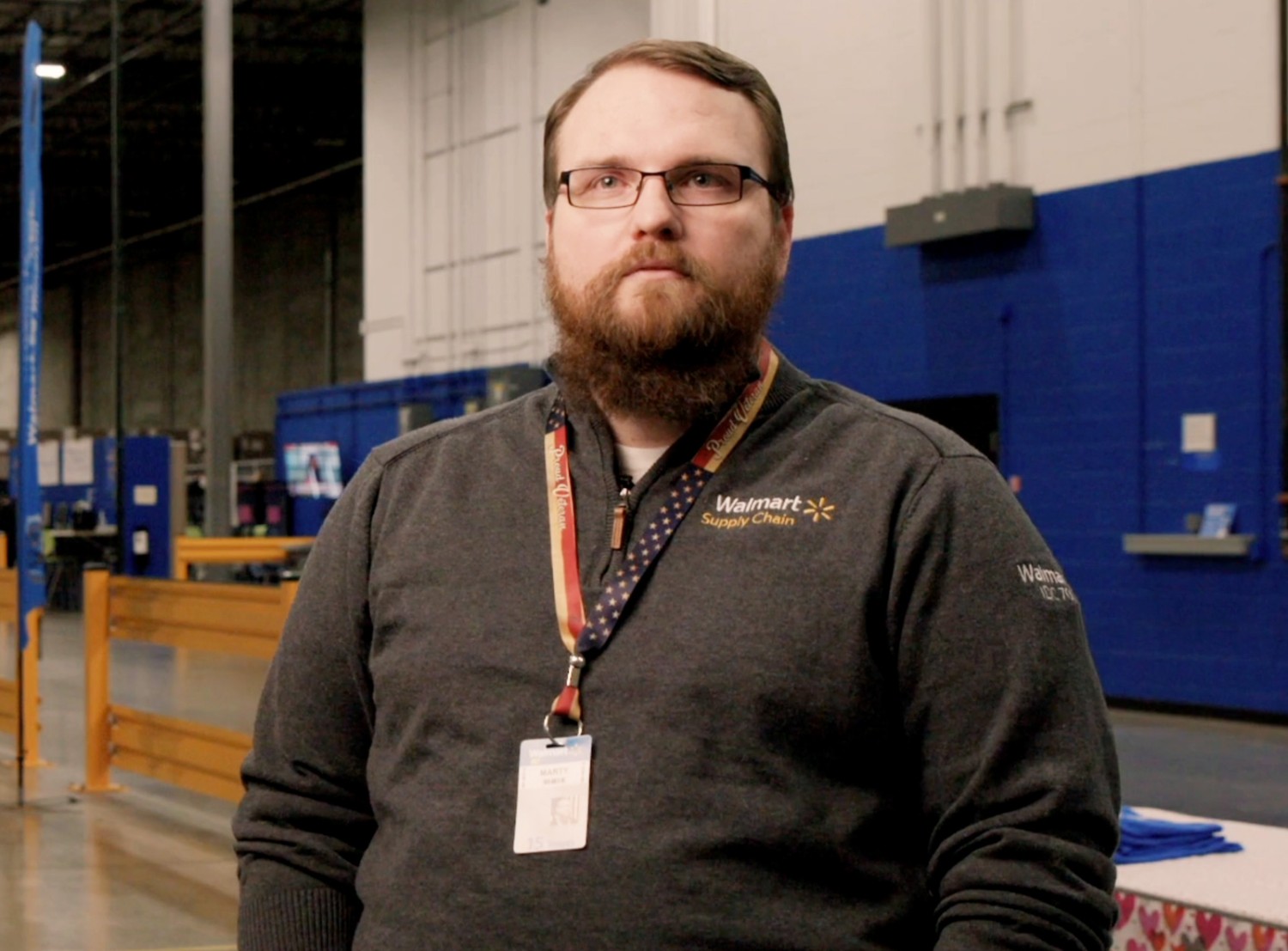 "Marty has a great passion for people," Leo says. "He gets 100% of the credit for doing all the legwork behind the scenes."
Building Community Inside and Out
IDC 7078 is one of seven import distribution centers in the U.S. Though Walmart has owned the building since 2006, it had been run by a third party until 2019. When Walmart took over, they hired new associates and managers, but kept on a lot of the people who were already employed at the IDC.
Then it was a matter of bringing the IDC up to Walmart standards, inside and out. That meant making sure shipping and receiving were handled correctly, but also that the parking lot and landscaping were kept up.
The team also needed to create a shift in philosophy. Integrating employees into the Walmart culture took Leo and his team time and effort. "That first year was a really big engagement, working every day of the week," Leo says.
Leo continued to foster connection, both inside and outside of the distribution center. He joined the board of Port Authority in Elwood and connected with the police department, the fire department and other community groups.
And when it comes to gathering people, food always helps! Leo is known for cooking up big pots of gumbo in the parking lot, and when he does, the police department and fire department are invited to attend along with the IDC's associates.
At Christmas time, the IDC runs an essay contest for local kids. The children write about what the holiday means to them to earn a chance to win a new bicycle. The first year, in 2019, the IDC gave away six bicycles. In 2020, they were able to give away 30 bicycles, and in 2021, they gave away 60. This year, they're aiming for 100.
Bringing Service Home
Leo says the IDC has made sure to reach beyond their neighborhood with its efforts, especially since many of the associates live outside Elwood, in the Chicago South Side. For the bike giveaway, they reached out to six schools in the neighborhoods where their associates lived.
IDC 7078 already has big plans for the grant money they won with the Helen R. Walton Award: they'll help the local Habitat for Humanity buy a property so it can get started on a new Habitat house this year.
A Winning Record
In addition to the IDC's service record, Leo is also proud of its safety and performance records, noting IDC 7078 was named Distribution Center of the Year for two years in a row, and also won Safety DC of the Year two years ago and Best in Safety in imports this year.
But the Helen R. Walton award holds special meaning and weight for Leo. He worked at the very first store to earn it, in Coleman, Alabama.
"It's a rare, exciting gift to get," Leo says. "It's just super emotional for me. It's like winning a trophy for what we choose to do for a living. It's been a pretty phenomenal year for the site. I'm proud of the team."