The Walmart Patent Program expands its reach.
Did you know that Walmart holds nearly 2,000 patents? Patents are essentially inventions that create a new or better way of doing something, whether it's a process or a product. Patents also help us legally protect inventions from being copied by others. Our company has patents related to everything from helping our customers check out smoothly to how our associates track inventory.
Here's another cool fact: Most of our patents come directly from the minds of our associates!
Ryan Crozier is one of those associates. Ryan is the Director of Front End Products. He's been at Walmart for 12 years and started as a Marketing Manager. If you've spotted one of the new modular self-checkout units, then you're already familiar with Ryan's work.
With World Intellectual Property Day on April 26, we think it's a good time to highlight recent changes to Walmart's Patent Program—and to celebrate folks like Ryan who are keeping Walmart moving forward with great new ideas!
Patent Pending
Walmart's Patent Program is a way for corporate associates to submit inventions for patents. The program expanded to include all corporate associates.
"Innovation can come from anywhere in the organization," says Sri Atluri, managing counsel for Walmart's Intellectual Property Center of Expertise.
Corporate associates submit their patents. The information is reviewed by the intellectual property team and, if approved, is passed on to a patent committee of subject matter experts.
Sri says the patent committee considers issues like whether the idea is new and patentable and whether it aligns with Walmart's strategic considerations. For example, is the invention useful for Walmart and our associates? Does it serve our customers?
If approved, the patent will be filed. That means an application with all the technical details is submitted to the U.S. Patent and Trademark Office.
"It can take several years of back and forth with the Patent and Trademark Office. And there is no guarantee that a patent will be granted and issued."
Problem Solver
Remember Ryan? He and three other associates are responsible for a new modular self-checkout station. The application for the patent was filed in October 2019 and the patent was granted in May 2021.
The design—known by the Patent Office as USD917942S1—builds upon other Walmart patents and inventions. It solved for a common Front End problem: Customers with full carts struggling to use self-checkout.
This new approach (shown below) lets customers pull up their cart, unload products for scanning and then place items directly in bags—all without taking any steps.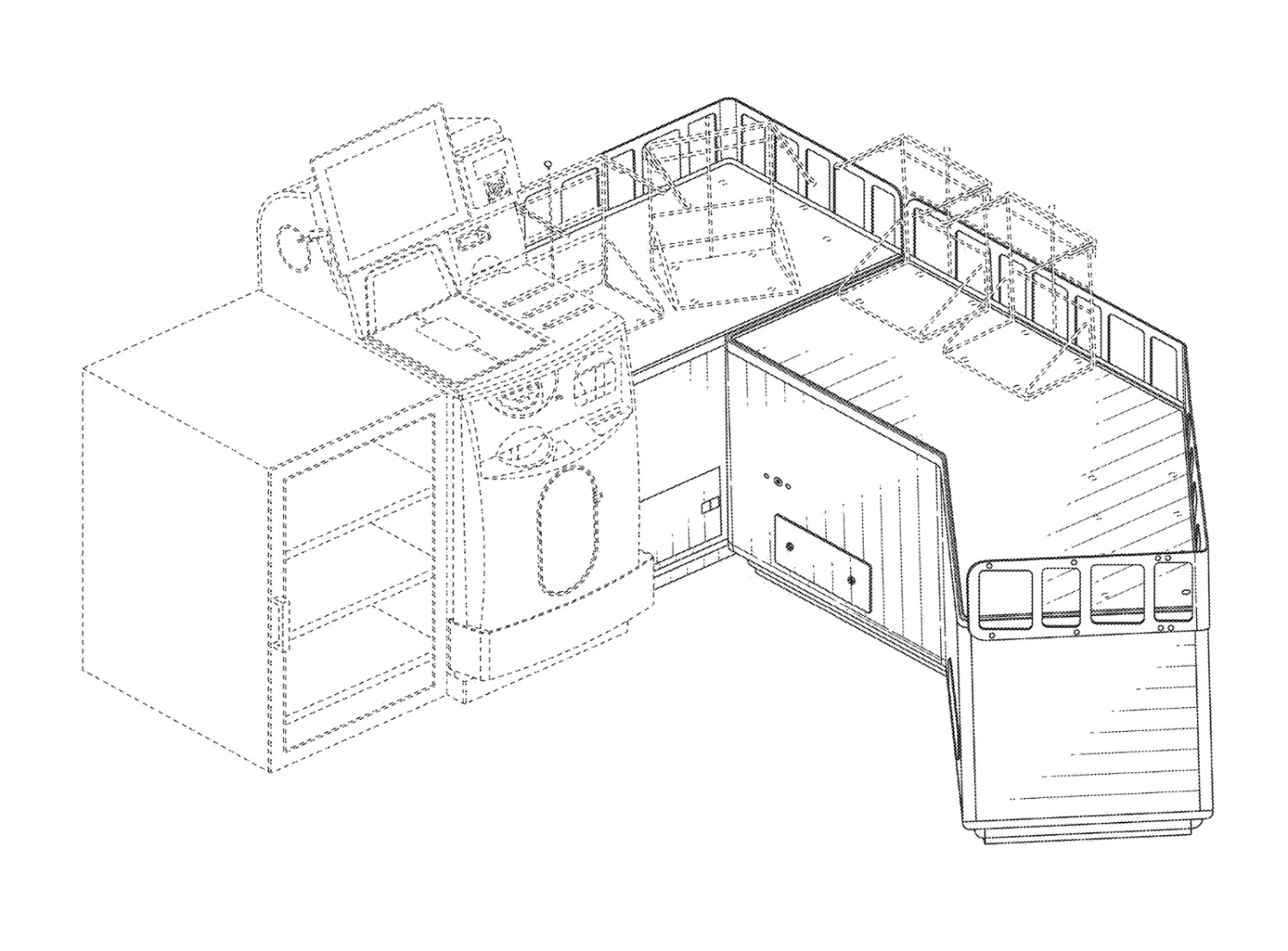 For Ryan, the chance to brainstorm, solve problems and, yes, submit patents is a dream come true. In fact, he currently has two patents in the works, and he's had seven approved during his time at Walmart.
"I've always been a problem-solver. It's what energizes me and makes me want to wake up in the morning and get to work," he says.
Ryan believes the Patent Program shows what Walmart is all about. "It's a way to channel the company's values into ideas and solutions. It's about making associates and customers lives better."
For the Future
"Patents are critical to Walmart's future," says Sri. "In order to position ourselves in the marketplace where we want to be, we need to be protecting our inventions and encouraging innovation amongst our associates."
Mr. Sam said our greatest ideas come from our associates. If you have a great idea, share it with us!