Store 4700 named Neighborhood Market of the Year.
When Store 4700 in Pleasant Grove, Utah, was announced as the 2021 Neighborhood Market of the Year, Kristin Rohling was genuinely surprised. "The coolest thing about this award is that it wasn't something that we even considered," explains Kristin, who's the store manager of Store 4700.
"When they called me up there, I was completely shocked! It wasn't anything on our radar."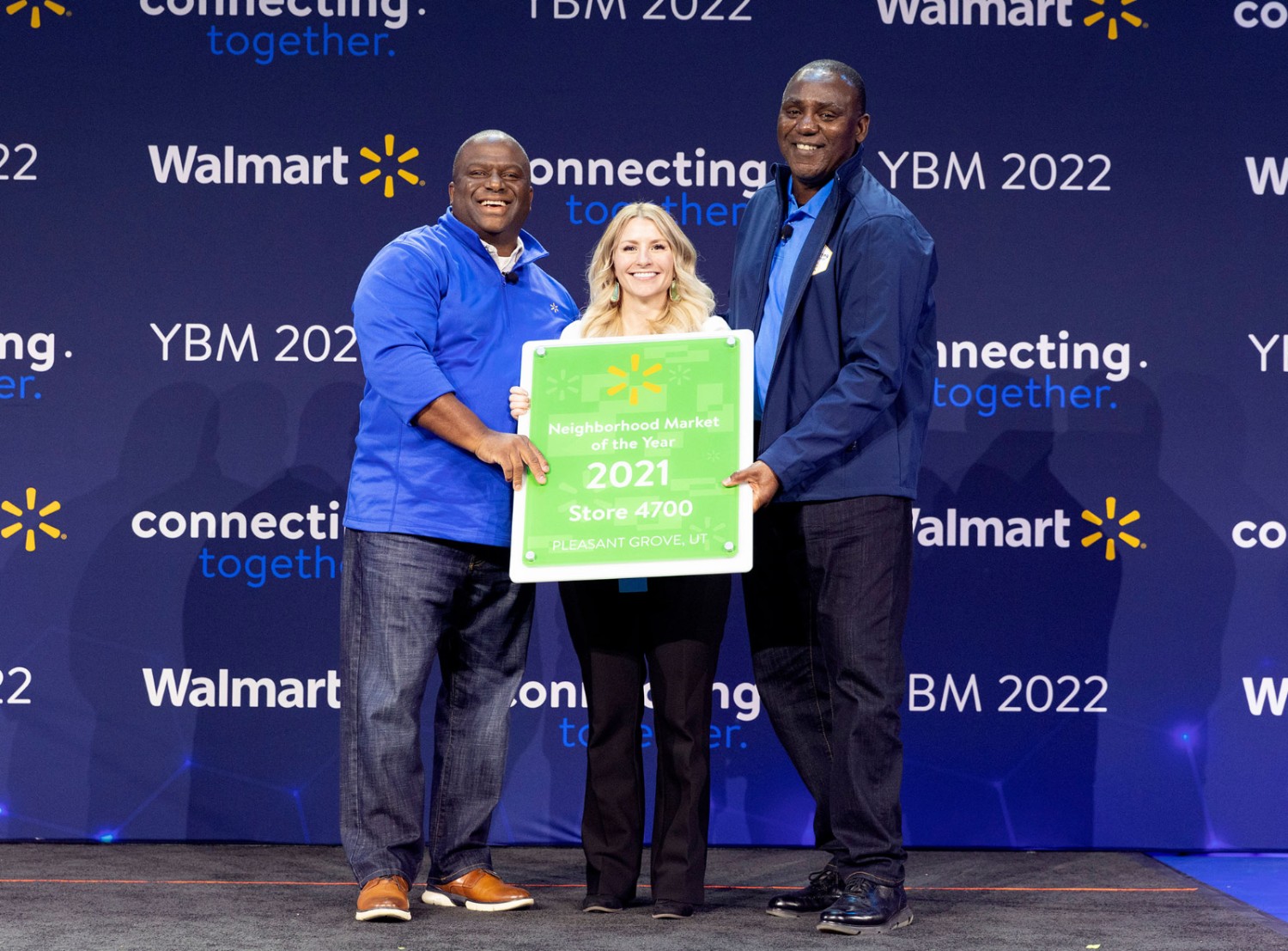 Walmart World asked Kristin if she could explain why her store won the honor. "I always tell the associates, if we're taking good care of each other and good care of our customers and the community, the rest just falls into place," she says. "It really has proven to be true in our last seven and a half years."
Teamwork comes naturally to the store's 80 associates. "When they rolled out teaming, it was so simple for us, because it was really what we were already doing," jokes Kristin.
Some of the key associates to open the store seven years ago are still there, including Kristin herself. "It's our blood, sweat and tears, and so it really is our store, and we really focus on bringing new people into the fold."
Support That Hits Home
A perfect example of Store 4700's caring spirit is a story that Kristin loves to share. "I noticed a customer with a walker in the store one day. I started talking with her. She lives in the apartments behind the store and explained that she used to take a couple of trips to get her groceries home."
The customer went on to tell Kristin something she didn't know. Marie, one of the store's cashiers, had gotten to know the customer and started helping her. During her lunch break, Marie would run the groceries over to the customer's apartment.
"It wasn't about being a Walmart cashier—it was just a person who saw somebody in their community who had a need. She took it upon herself to take care of that person. It was about just being a good person."
Through Thick and Thin
Kristin says the COVID-19 pandemic challenged her store, just as it challenged many others. The Omicron variant in 2021 caused quite a few absences. The store's ethic of teamwork helped them pull through.
"I have some great core associates that just really, really care about this store," Kristin says.
"So even during the hardest times when we felt like we just didn't have enough people to get everything done, they'd somehow figure out a way to do it, whether it was pitching in a couple more hours or just really making priorities every single day."
Taking Care of Each Other
Kristin says she and the other associates do their best for each other and the people around them every day.
"It's about taking great care of each other. So when the regional or the market team or the VP does come in, it's not a stress, because we're already taking great care of each other and taking great care of the store."
Kristin, who started as a part-time cashier with Walmart when she was 19, has now been with the company 21 years.
"It's all I've ever known. The company's been really great to me," she says. "Walmart has taught me everything I know about running a business, about being involved in the community, and so I'm really thankful for all that. But at the end of the day, what I'm thinking about when I'm at home, and what I'm focused on when I'm here, are the associates and the customers."