30 years ago, Sam Walton received the Presidential Medal of Freedom.
It was March 17, 1992, when President George H. W. Bush came to Walmart headquarters in Bentonville to award Sam Walton the Presidential Medal of Freedom.
In a moving ceremony, President Bush recognized our founder for his generosity and his tenacity, but noted the award was not only for Walmart's business success.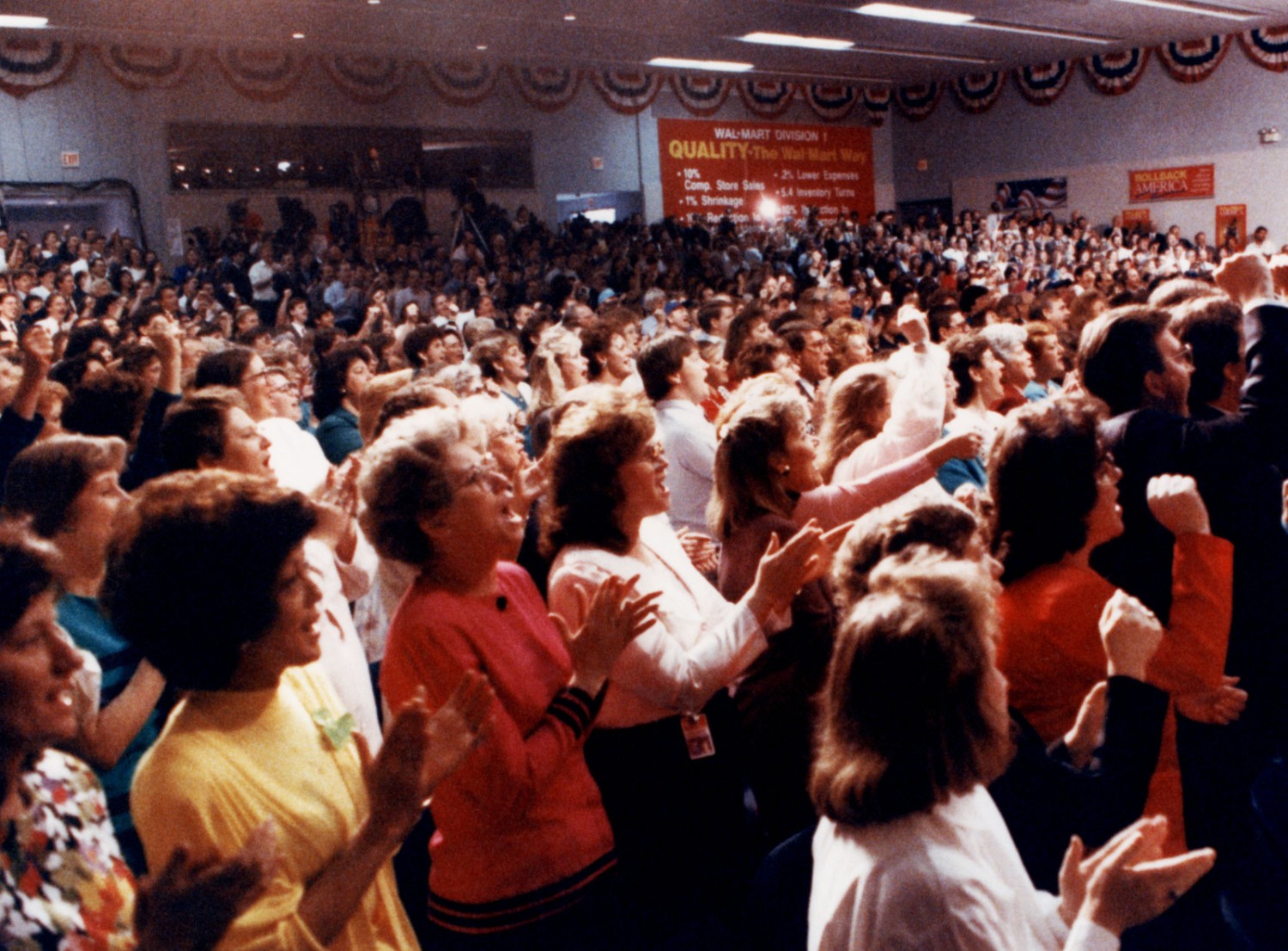 Achieving the American Dream
"This visit is about what is fundamentally good and right about our country," President Bush said in his speech. "It's about determination, it's about leadership, and it's about decency."
"The story of Sam Walton," President Bush said, "is an illustration of the American dream. His success is our success."
On the day of the ceremony, Angie Rose, now an executive assistant with Walmart in Bentonville, was working in loss prevention.
As a member of security, Angie helped prepare the headquarters for President Bush's visit. Federal security teams swept the buildings with bomb-sniffing dogs, Angie recalls. Men were stationed on the roof to keep an eye out for threats.
Angie also had the privilege to watch Mr. Sam receive the award.
"I was never so proud to work for Walmart, for a company that had that opportunity to actually have the president come and honor Mr. Sam," she says.
Committed to Community
President Bush praised Mr. Sam's business success and his commitment to community.
"Of course, Mr. Sam's a great businessman, but along with making a good profit he helps make good citizens of his people by encouraging them to help one another."
As his voice cracked with emotion at one point, the president went on to say, "This nation honors him today as the outstanding example of American initiative and achievement."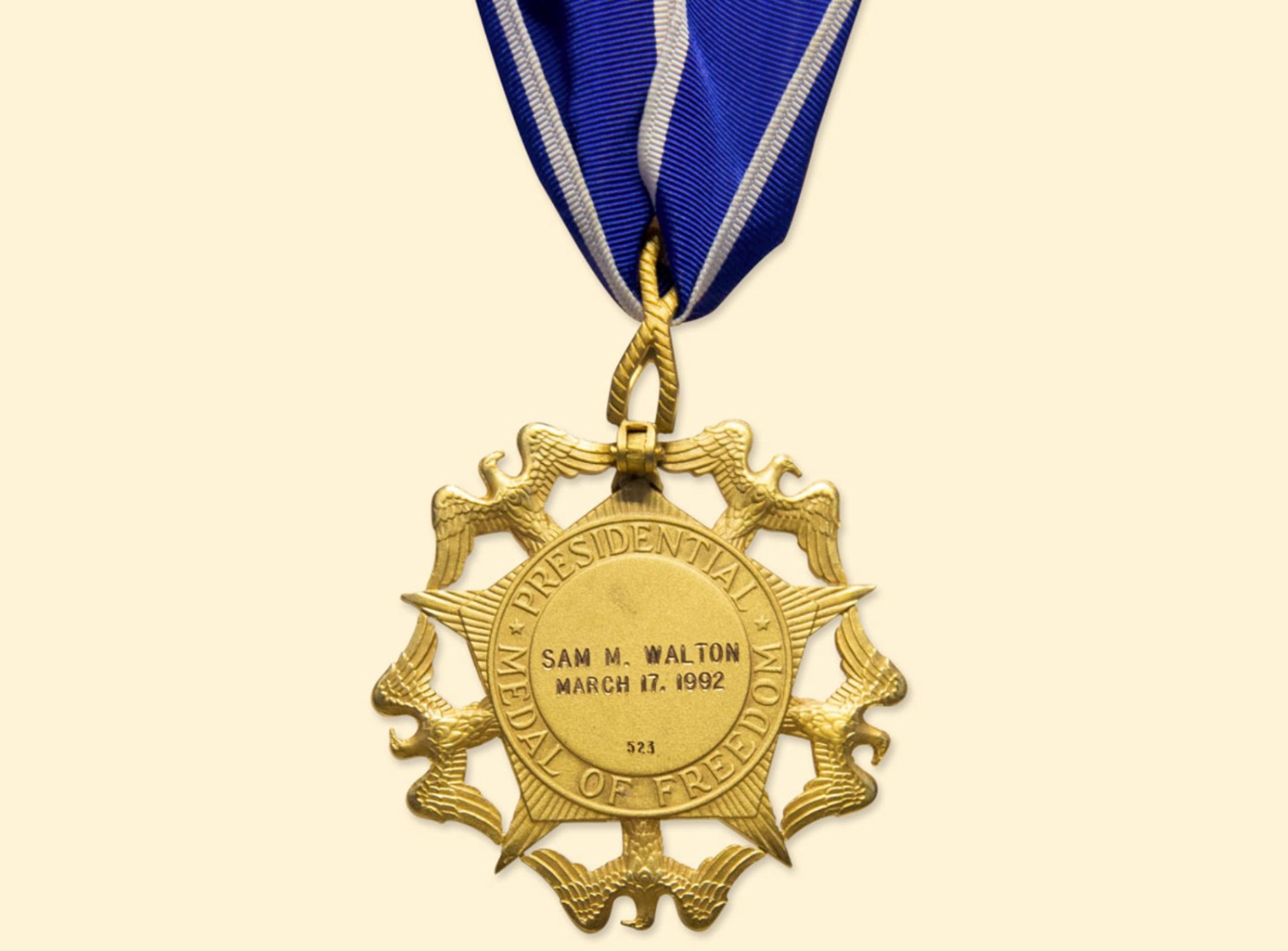 President Bush also highlighted Mr. Sam's pride in his associates, and his commitment to them—shown through the company's relief fund for associates facing personal difficulties, scholarships, funding for colleges, education grants and more.
"People don't just punch a timeclock and draw a paycheck," he said. "It's not hard to see why they believe in this company, and it's just plain easy to see why they believe in this unpretentious leader."
Mr. Sam, who would pass away just a few weeks later, called the award "the highlight of our entire career, my career, and I think the entire company." He wanted his family and his Walmart family in attendance at the event, which took place in what is now known as the Sam M. Walton Auditorium in Bentonville.
"If we work together, we'll lower the cost of living for everyone," he said. "We'll give the world an opportunity to see what it's like to save and to have a better life."
The Highest Honor
The Presidential Medal of Freedom is the highest honor awarded to civilians in the United States. The award recognizes those who have made "an especially meritorious contribution to the security or national interests of the United States, world peace, cultural or other significant public or private endeavors."
Other winners in 1992 included journalist David Brinkley, comedian Johnny Carson, singer Ella Fitzgerald, actress Audrey Hepburn and Holocaust survivor Elie Wiesel.
Mr. Sam's Presidential Medal of Freedom is on display at the Walmart Museum.