It started when she decorated a back-to-school Walmart cape. Today, she's rocking seasonal costumes and a new-found confidence.
Shy is not a word that you'd use to describe Eleanor Barnett. When we caught up with the front-end associate at Store 2139 in Lynn, Massachusetts, it was December. She was wearing a Christmas tree hat, a holiday-themed mask, and was bubbly and talkative. For March, she's wearing her St. Patrick's gear. 
So it's surprising to hear that when Eleanor started working at Walmart 26 years ago, she was pretty shy. "I was nervous to talk to anybody," she admits. 
Today, Eleanor is a favorite with customers. She's the life of the party! That's because Eleanor is known for her outfits celebrating holidays and special occasions. She has special outfits for days year-round—including Memorial Day, Halloween and Thanksgiving.  
The costumes help her connect to Store 2139's customers. "Customers are forever asking me for pictures," she says. Eleanor has even met our CEO John Furner in her store (pictured below)!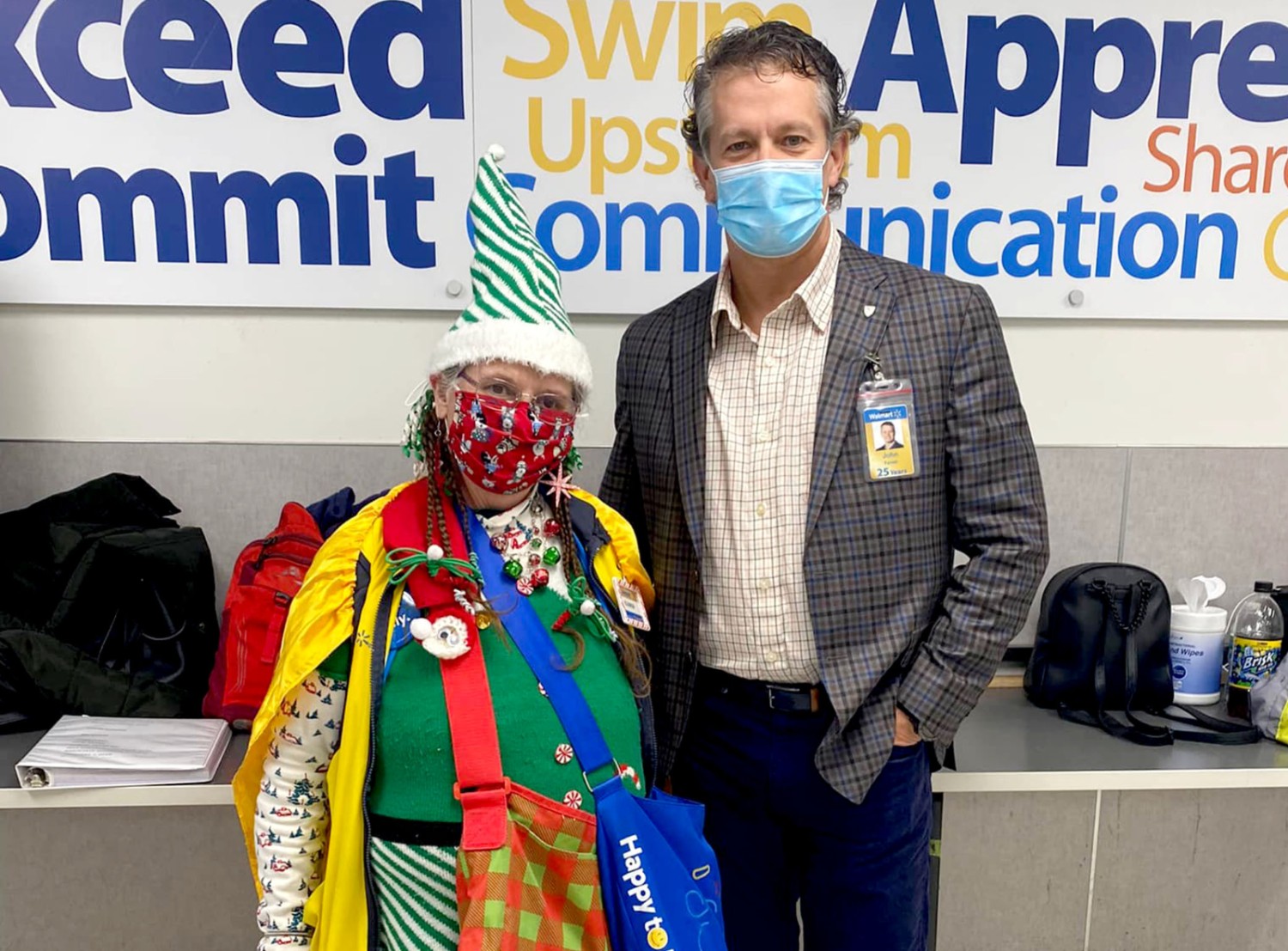 Eleanor kicks things up a notch for Christmas. She'll start wearing costumes to work every day from Black Friday to Christmas. Some days it's the Christmas tree hat and Christmas tree mask, other days it's an elf theme or a snowman theme. "I have a different outfit every day," she explains. "Different headbands, different shirts, different themes."
The Start of Something Special
Dressing up for work started with a back-to-school promotional cape that Walmart sent to stores in 2017. Not all the associates kept them, but Eleanor decorated hers (pictured below). Customers admired it, and when the promotion was over, they started asking where her cape was.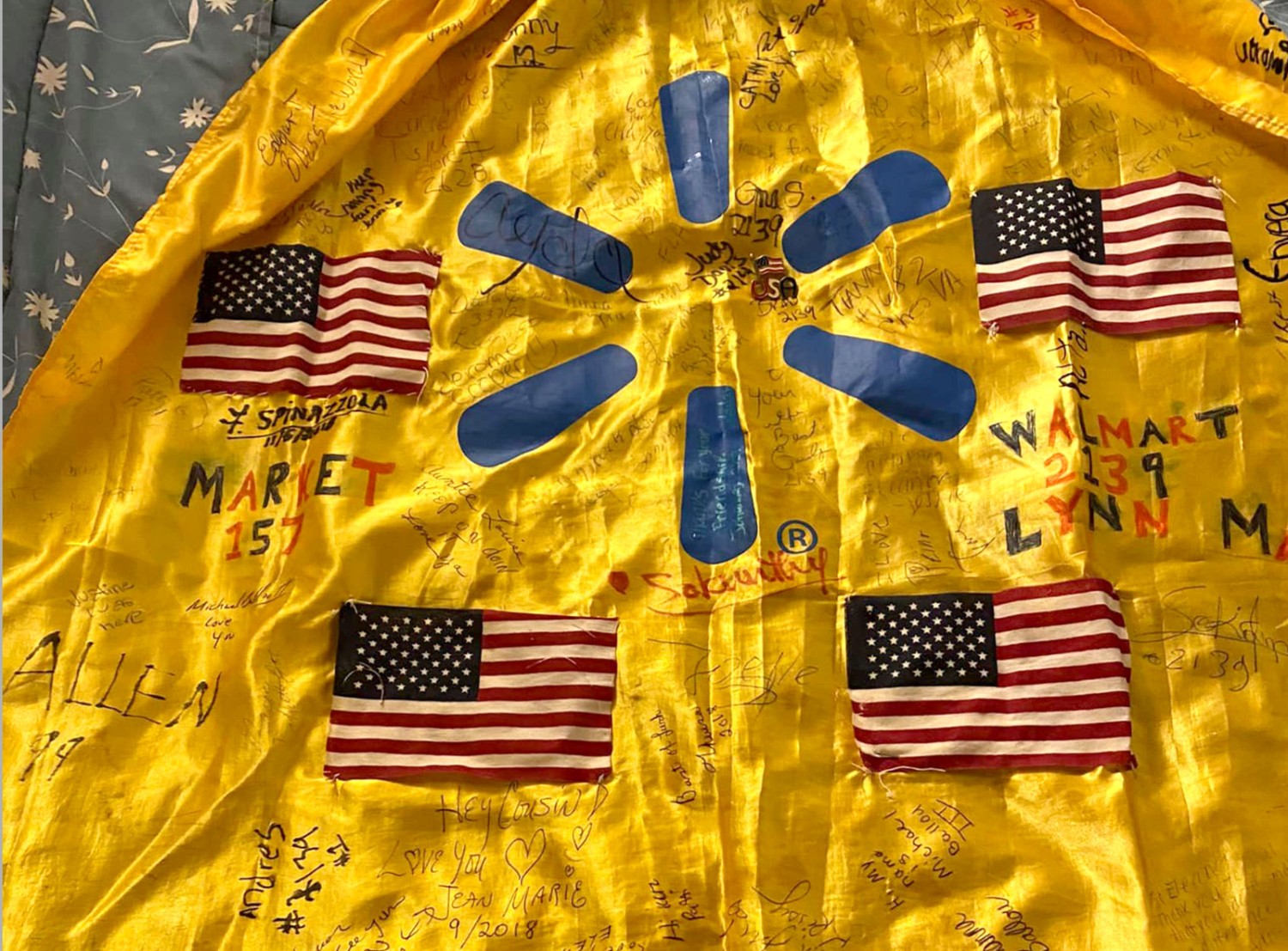 It's the customers that keep Eleanor busy creating new costumes. "I love the smiles," Eleanor says. "I love how Walmart lets me be me and make the customers smile."
Her new wardrobe is not the only thing Eleanor has gotten from Walmart.
She's also an avid pin collector, with about 800 pins. Her favorite? Her divisional gold "Happy to Help" pin, which was awarded to her during a store tour in 2018. "I cherish it so much," she says with a smile.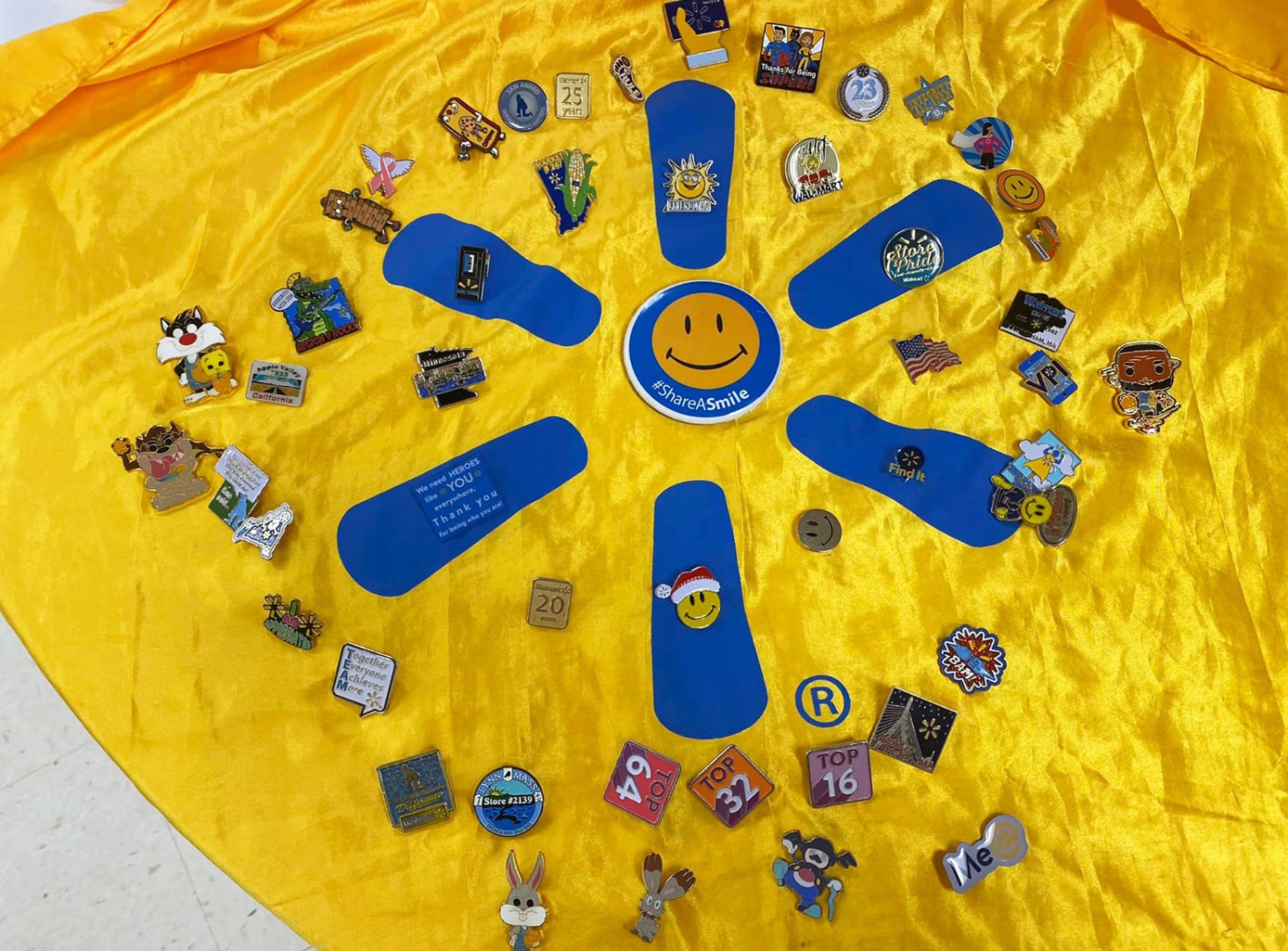 Still Growing
Earning the pin also earned Eleanor a trip to that year's shareholders meeting. At the event, Eleanor met people from 28 different countries, participated in contests and games and came home with great souvenirs and even better memories.
"Oh, what an experience!" she exclaims. "That brought a lot of shyness out of me. I just participated in anything I could and did interviews and everything."
Eleanor has had the opportunity to attend two shareholders meetings. She believes they were yet another way that Walmart helped her grow as a person.
"I wanted to get away from my shyness," Eleanor says. "I wanted to experience something exciting. Boy, I have!"