A story from Lawrenceburg, Kentucky, proves that everybody has the power to save a life.
Note: The following story includes mention of suicide.
As Halie Hatchell gave out roses in a Walmart Online Pickup & Delivery effort to brighten customers' days, she had no idea the profound effect she would have.
One of the customers at Store 507 that day was struggling with suicidal thoughts. She was doing one more errand before heading home, where she intended to end her life. As this customer searched online for how many pills it would take, Halie walked up to her car window and handed her a pink rose.
"Just that little random act of kindness literally saved my life," the customer later wrote in a Facebook post about the experience.
Digital coach Mark Willard read a survey that the customer filled out on a whim, explaining what she had gone through that day, and he was overcome with emotion.
"Knowing the simplest act of kindness that we provided saved her life made everything we do worth it," he says. The next time the customer came to pick up an order, Mark was waiting for her with a whole bouquet of flowers.
When Mark told Halie the extraordinary outcome of her actions, she was shocked, and remained that way for a while. "I gave her a flower, not knowing her circumstances, and that helped her—saved her, in a way. It just shows that you never know what someone's going through. I was really happy that I could help her in that way," Halie recalls.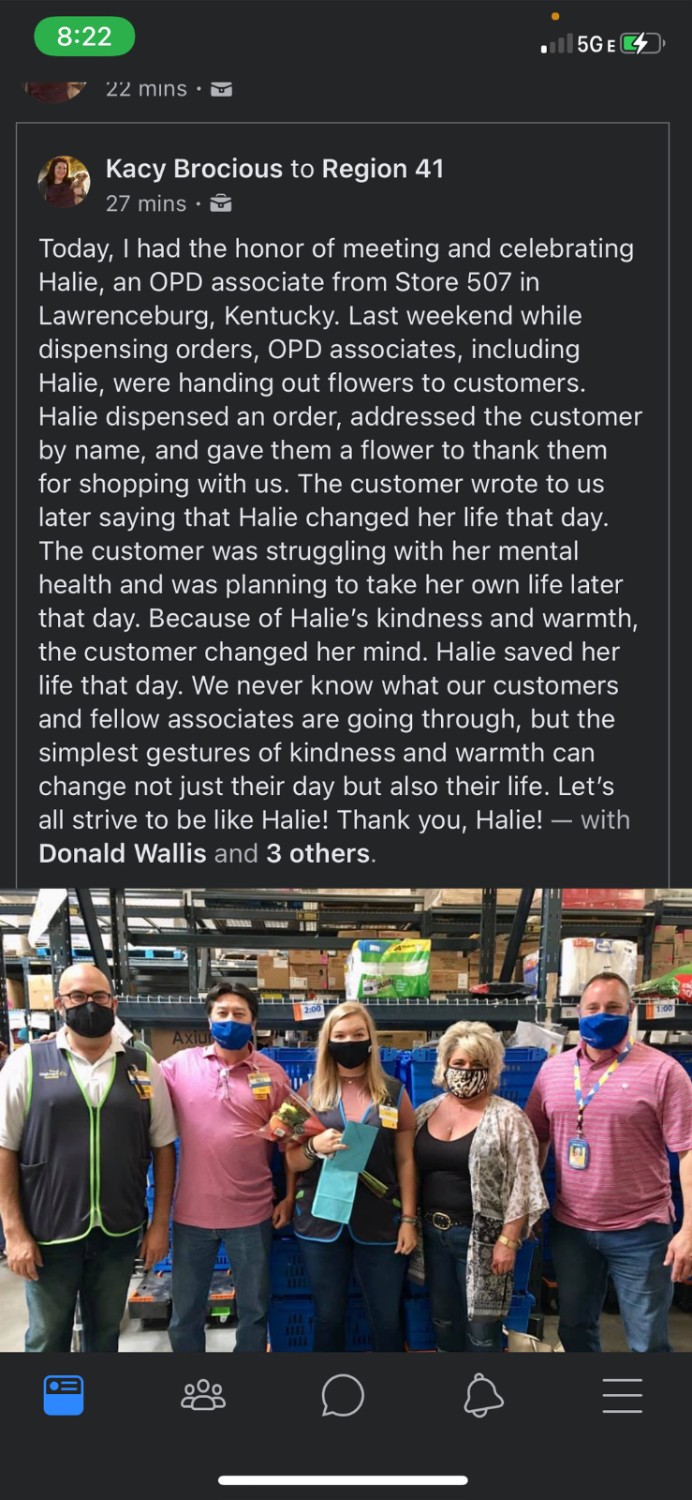 The story struck a chord with Mark, who believes Walmart also helped save his life. 
"I quickly fell in love with Walmart. It gave me a purpose and I knew that they needed me as much as I needed them. I truly believe the store manager at that time saved me. Her name is Kim Darland. She always had the right thing to say to me and was always pushing me to do better," Mark explains.
Halie credits Walmart with helping her grow as a human being. "I think Walmart has shaped me into a more positive person," she says.
Her experience with the customer on that fateful day has made her think more about what other people are going through. "I'm always trying to be nice and just make the customer's day better."
Mark eloquently sums up the life-changing impact of Walmart's culture: "The thoughts of not being good enough or that life didn't need me in it quickly went away because I believed Walmart needed me. Now 30 years later, I give credit to Kim and Walmart for saving me. I have been in the same store for my entire career and one of the biggest reasons is that I know I owe everything to this store and the associates.
"I have been very lucky to grow here as a leader and a leader in my community. I will always have one true love in my life and it's my work. Knowing that the culture I have built in my OPD area has made such an impact on a customer's life makes everything we do worth it."
Are you struggling with thoughts of suicide or hurting yourself? Help is available. Call the National Suicide Prevention Lifeline 24 hours a day at 800-273-8255. Associates can also take advantage of emotional well-being resources including free confidential counseling and health information.