Walmart associates can access Workplace to share ideas and information, and to network.
Looking to further your career or connect with Walmart associates around the world? There's an app for that!
Walmart U.S. store hourly supervisors and associates now have access to a social media app that lets you connect with fellow associates like never before: Workplace.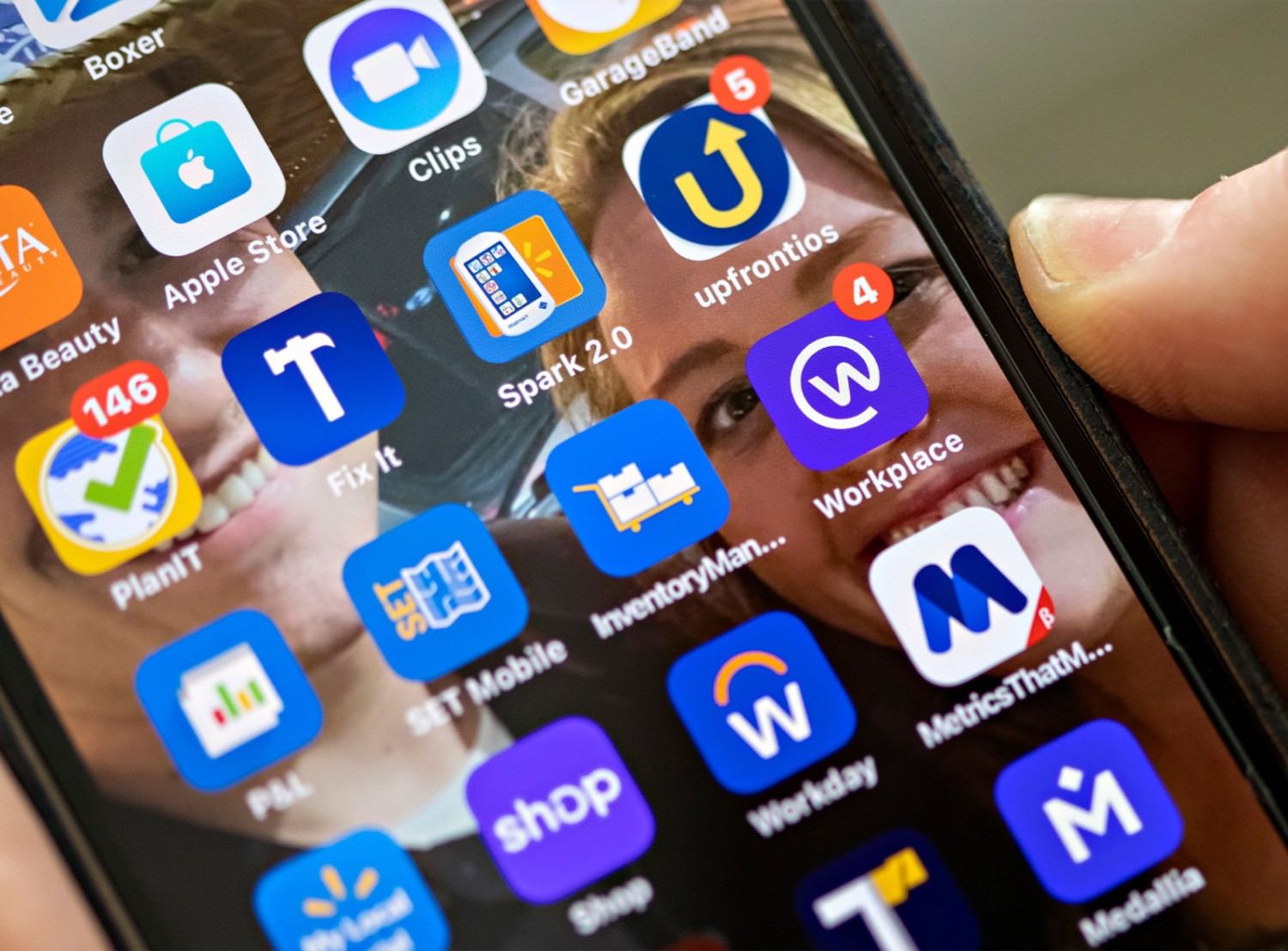 The Workplace app is for associates to connect on all things related to working at Walmart. It's a kind of digital town square for associates to gather and get company updates, share accomplishments, announcements and ideas, or connect with other associates on projects and events.
Here are three ways you can use the Workplace app to help you on the job:
1. Get Fresh Ideas
Lauren Liggett, Store Lead at Walmart Store 17 in Neosho, Missouri, says Workplace lets her see how other stores handle merchandising. On the Fourth of July, for example, stores were sharing different ways to showcase patriotic items.
"I use Workplace to display how good our store merchandising is. If anybody wants to take some of our ideas, they can do that," she says. "I've also seen a lot of good ideas on Workplace and share those with my team."
2. Recognize Stellar Associates
We have millions of incredible associates doing amazing things every single day. You can post a pic, upload a video or just give a shoutout to your awesome peers! Recognition goes a long way and helps reinforce our culture. We are diverse and inclusive, and Workplace is a great place to share stories of how we're making a difference.
3. Learn and Network
The app is a good option for associates looking to move up within the company, Lauren adds. It offers a more in-depth look at what's going on in the company and how people in different positions and at different levels operate.
"It's definitely a good resource for people who are hungry for that next step—for a promotion—to get ideas of what's going on within the market as far as merchandising, or maybe people operations," she says.
"It could also be another way for new supervisors going through academy classes to keep in contact with other participants in class."
But Wait, There's More!
We also appreciate these facts about the Workplace app:
Workplace can translate content into more than 100 different languages, so Walmart associates from across the world can communicate with each other.
You can select your pronouns, name pronunciation and skin-tone emojis to better represent YOU!
Top Workplace groups include Walmart World, which shares Walmart news and announcements, Walmart U.S. Shoutouts & Happenings to give props and Workplace Q&A—but there are many, many other groups to choose from. It's a good idea to start by joining groups related to your area of responsibility, so you can keep up with announcements. Joining other groups gives you good exposure to programs, leaders and messages you might otherwise not connect with.
Ready to join your community on Workplace? Go to Walmart.workplace.com. And if you need help figuring it out, check out these resources.