We get a behind-the-scenes peek at our newest product offering.
There are those things that are meant to go together. Wine and cheese, peanut butter and jelly, Thelma and Louise—and increasingly, Walmart and new opportunities.
And there's a common thread underlying our latest offerings: On some level, they all start with people. This much is certainly true when it comes to Walmart's newest wine offering, and its perfect pairing with cheese.
Walmart launched the Winemakers Reserve Series on July 8, with domestic and international varietals that offer awesome taste at only $10. It's kind of a big deal. To get to the bottom of the glass, we talked to the merchants who buy Walmart's cheeses and wines: Courtney Talbott (pictured above) and Katie Smith.
Pour a Glass, Pull Up a Chair
Katie is the merchant responsible for buying the Winemakers Reserve series. She's been a Walmart associate for eight years, but she didn't plan on pursuing a career here.
"I went to school to be a dietician," Katie explains. "But I realized it wasn't my thing, and so I moved to Little Rock, where I was a beverage coordinator for a country club."
After some time working in the beverage industry, Katie was ready for a change. She found her way into Walmart as a category team assistant, and that's where her career really took off. Katie has worked as a merchant buying everything from potatoes to hot snacks, but she admits that life is good in wine.
"There are those times as a merchant where you get to stand up in front of an auditorium and talk about your projects, and I get to say, 'I have the best job in the company,'" Katie says. "People like to think this is the job where you taste wine all day, but there's also lots of hard, tactical work that comes with it. It's challenging, and it's equally fulfilling."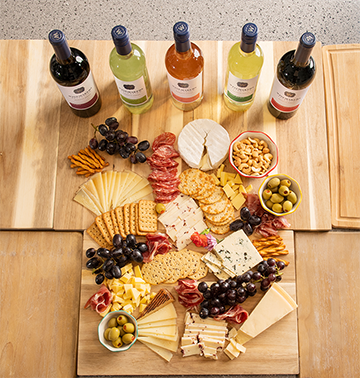 Try Some Cheese?
Courtney buys Walmart's specialty cheeses in the deli category. And almost as classic as her category is the way she was able to build a career at Walmart.
Courtney started in the stores when she got a summer job at Sam's Club 4930 in Cookeville, Tennessee. She didn't know her time as a cashier would translate into a career. But with more experience came more opportunity—from learning inventory audits, working at the membership desk and, finally, becoming a member service supervisor.
"I started hourly as a cashier, and I kept getting new opportunities," Courtney says while she expertly styles a cheeseboard. "I actually got the Walmart associate scholarship through the Walmart Foundation, and that helped to pay for my college!"
After she got her degree in merchandising, Courtney went back into the store with a market-level internship at Sam's Club 8294 in Nashville, Tennessee. She was given the chance to go into the management training program, but said that the more she learned about buying, the more she felt called to try it out.
"Merchandising was where I really wanted to be, and so I just started applying to jobs at the Home Office," Courtney says. "I would go into the Club computers and just start randomly emailing buyers. That's not exactly how applying works, but I did make some good contacts!"
Now, as she nears her five-year tenure at the Home Office, Courtney has a category she's passionate about, and relishes the opportunity to teach Walmart customers and associates more about those perfect pairings—like Walmart and opportunity.