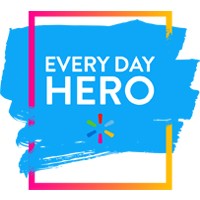 Every Day Heroes reflect on their life and work philosophies.
Thank you, gracias, dank je, merci, tak, dankon, danke, grazie, obrigado, asante—however you say it, we want all our associates to hear it! Walmart and PepsiCo have teamed up for Every Day Heroes, a campaign designed to celebrate frontline retail associates who make a difference and selflessly serve others—people just like you.
You may have spotted special packaging on Frito-Lay products and in-store displays. Walmart World is joining the celebration! We'll be profiling associates who truly go above and beyond every day in their jobs and their communities. To see what that really means, we asked our Every Day Heroes to share more about how they approach work—and life.
Here's what we learned:
On making time for family: Birthday, wedding or Little League championship, if one of her associates has a family commitment, Candace Vandervaart, store manager at Store 2483 in Las Vegas, Nevada, wants to help them be there. Candace says if the company makes sure to value associates' time with their families and friends, they're going to work harder when they're on the clock.
"My philosophy on work is that a successful organization is run off a good work/life balance for associates regardless if they're hourly or salaried," she says. "I share the importance of being at all key events for your families. I protect people's time off and work hard to fulfill all time requests so people can be there. When you're at work, push hard and be committed."
On working hard: Toshua Harrell, store manager at Store 1189, in Barbourville, Kentucky, says she makes sure to recognize her associates' efforts, especially during the pandemic. That meant giving out pins and pizzas, providing treat bags at Easter, and holding a special graduation ceremony for seniors whose schools didn't hold events due to the pandemic. "With hard work, dedication and loyalty nothing is out of reach," Toshua says.
On valuing community, achievement and relationships: "My philosophy on both life and work is to first understand exactly what it is that you value," explains NaToya Champion, a developmental market manager based in Oklahoma City, Oklahoma.
"When you understand what you value, that should help define your purpose." NaToya says she values community, achievement, and healthy work and personal relationships.
"My purpose at heart is to see individuals do things they've never done and achieve goals they never imagined that they could," she says. "All these things combined help to achieve the one thing that humans desire in both their home and work life and that is success."
On finding success: Store manager at Store 6323 in Gulfport, Mississippi, Kevin Gaines says associates can make or break their own careers. "I believe a person's greatest opponent or challenge in life will be the person staring at you when you look in the mirror," he says.
On finding gratitude: Fredrick James Efu-Awich, who goes by Efu, is a pharmacy clinical services manager at Store 4264 in Oro Valley, Arizona, "In life and in work, I chose to embrace and cherish each day," Efu says.
Between July 22 and August 18, look out for more stories about growth, giving and getting it done!