Elizabeth Walker has compiled affordable and innovative products for our cats, dogs, fish and chickens!

Nearly 70% of Walmart associates have a pet, and if you're like me, you might not have gotten through the past year without the support of your furry family members.
A lot of things had to be cancelled—trips, concerts, parties. But you know what has NOT been cancelled? Puppy kisses, kitty cuddles and plenty of belly rubs. So how do we give back to the ones who get us through our toughest days?
For National Pet Month, Walmart has tons of affordable items—from advanced nutrition to eco-friendly bedding—to make your friends feel special.
For Dogs
Targeted Nutrition: This month, we're launching a new, vet-developed dog and cat food line from our exclusive Pure Balance brand called PRO+. PRO+ is a tremendous value and makes it easy and affordable to keep your pet's health a top priority.

Elizabeth Ramirez (pictured below) is part of the Private Brands Product Development team, and she worked with veterinarians to develop the new line. (Fun fact: Elizabeth even tasted the food and treats to make sure it was tasty enough for our fur kids. Yum!)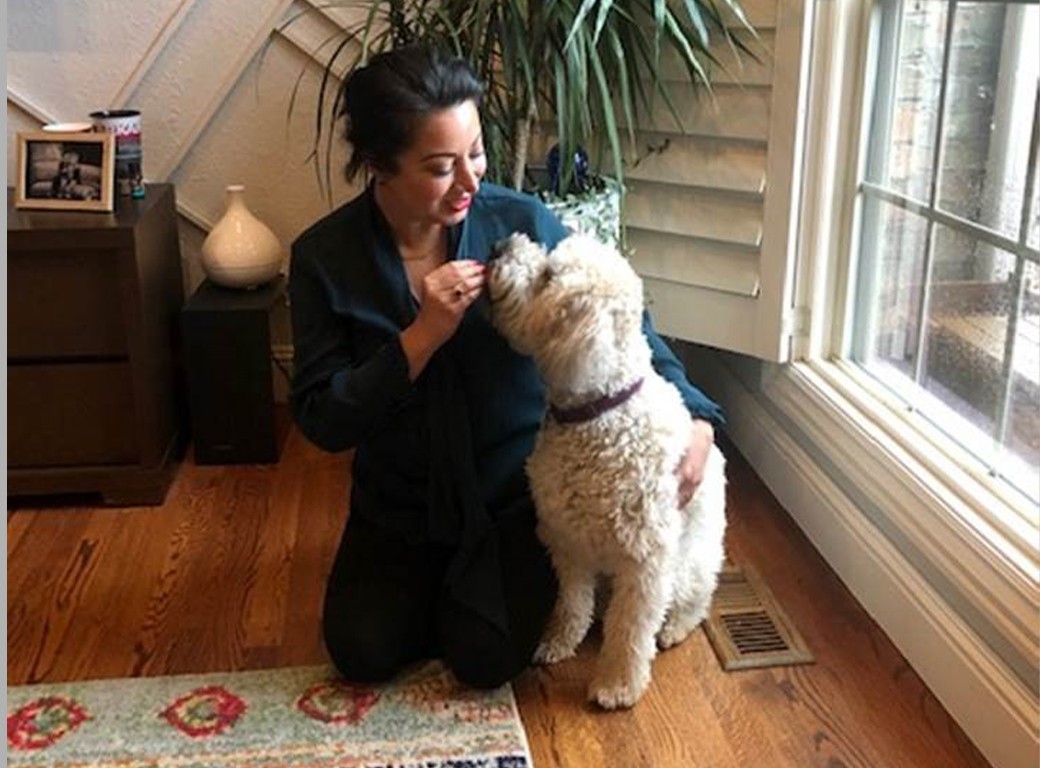 Bedding: With all the joy they bring, don't our dogs deserve a comfy place to snooze? The Vibrant Life Bolstered Bliss Mattress Edition Pet Bed is a large deluxe dog bed containing high performance human-grade mattress materials.
The best part? Mattress Edition beds are part of Walmart's Closed Loop Program and contain recycled mattress materials, which will keep thousands of mattresses from landfills annually!
Kennels: Many pet parents opt to crate train their dogs, and for those who do, the Vibrant Life Double-Door Folding Wire Dog Crate is a must. My three dogs rest in their kennels when we're away from home, and I feel better knowing they won't eat something harmful or pull a muscle jumping off of furniture.
Toys: Trying to make fetch happen? Look no further than the Nerf Dog 16" Tennis Ball Blaster Dog Toy or the Chuckit! Classic Ball Launcher Dog Toy.
Apparel: We know tie-dye is back in a big way this summer, so why not let your doggo in on the trend? The Vibrant Life Tie Dye Dog T-Shirt will bring paw-sitive vibes.
For Cats
Targeted Nutrition: Pure Balance PRO+ offers food with your pet's whole health in mind. For cats with sensitive skin or a sensitive stomach, there's a food specially formulated for them.
Bedding: Fluffy won't be able to resist the Vibrant Life Cozy Lounger Pet Bed Mattress Edition. (Pro tip: This is also great for small dogs!)
Travel Carrier: Whether it's a trip to the vet or a longer road trip, the TrustyPup Easy Explorer Soft Sided Carrier will make traveling with your pet a breeze.
Cat Home Essentials: Your feline friend deserves her own space. How about the Cat Craft 45-in Cat Condo and Scratching Post Cat Tree Tower? And the SmartyKat Super Scratcher Double Wide Corrugate Cat Scratcher with Infused Catnip will help keep her manicure on point.
Toys: If your kitty likes to play, check out this super cute Melon Madness Puzzle & Play Cat Game from Petstages.
For Birds, Fish, Reptiles or Chickens
Not all pets are the furry kind! If you have a fish, check out this LED Aquarium from biOrb. Tree frogs, geckos and chameleons will delight in the climbing room offered in this Zilla Tropical Reptile Vertical Starter Kit with Mini Halogen Lighting. 
The hottest toy for pet birds? Small Poker Shred Bird Toy. And if you've got chickens, check out this hen house that's basically a poultry palace.
Pet Insurance Deal for Walmart Associates
During the month of May 2021, Walmart associates who sign up for a new Walmart Pet Insurance policy through the Associate Discount Center will receive a $25 Walmart gift card! No code needed! Just make sure you sign on through VPN. And, associates can always enjoy 10% off your pet meds through WalmartPetRX.com. Check out the discount center for the associate code.
Whether your pet pal is a precious pug or a pretty parakeet, pet parents can find what they need in stores or on Walmart.com.