Searching for family fun? Look no further than these craft kits.
When Jinri and Andrew Nestor first heard the term ambient learning, it just made sense to them. Ambient learning is a way to describe learning from your environment. And it comes very easily to kids. As Jinri says, "It's the way kids naturally learn from everything around them."
Andrew is Jinri's husband and a social media manager at Walmart's Home Office. "When I heard about ambient learning, I thought, 'Oh, that's what Jinri is doing with our son,'" he says.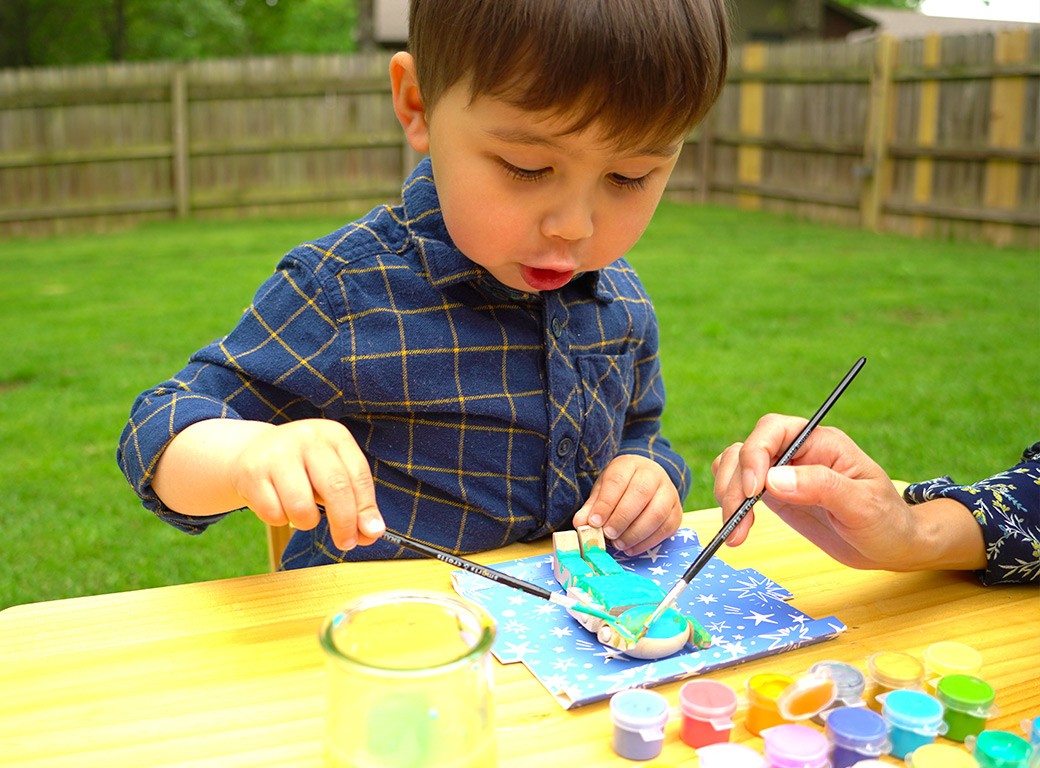 If you're a parent and you happen to speak with Jinri, you might want to bring a pen and paper to take notes on the creative activities she's been doing with the couple's toddler, Logan (pictured above). On any given day, you'll find her adapting the latest Pinterest or Instagram craft craze or inventing her own hands-on activities. 
Burying plastic dinosaur bones in gelatin and cornmeal, giggling at wiggly worms made from paper towel, finger painting with colored cornstarch, smooshing slime from chia seeds—it's all in the name of (messy) fun and learning.
Designer and kid at heart Todd Oldham would approve! He recently partnered with Walmart to create a line of products that celebrates what parents like Jinri and Andrew know very well: "The most important part about learning is to excite and inspire—and ambient learning is a great way to kickstart that."
Todd goes on to say, "I was raised by exceptionally creative parents who constantly encouraged us to be thirsty for learning. They gave my sister and I a way of seeing that made us excited about new information and eager to explore."
A Celebration of Creativity
The Smarts & Crafts line is inspired by his own childhood, his love of creating and the chance to reach Walmart's broad customer base. The line includes arts and craft kits brimming with quirky tools and art supplies, as well as bright, beautiful bedding featuring dinosaurs and not-so-typical colors.
"I'm so very excited to do arts and crafts with Walmart, because their reach is so very far and the stores are so meaningful in so many communities all over the world," Todd shares.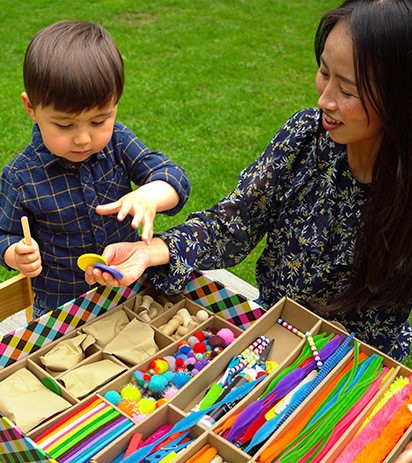 Todd describes the collection as an "all-inclusive arts and crafts celebration" that reimagines crafting essentials—from pipe cleaners and paint brushes (made without animals) to wood beads and window art. Travel or a meal out with your kids might feel a little more manageable with the collection's on-the-go kits.
Bringing It Home
When Andrew saw the Smarts & Crafts Go: Wooden Flower Garden, he knew his older son would love it. And he really appreciates the convenience of having the pieces all together in one kit, which makes clean-up and storage easy.
With remote school a not-so-distant memory for many parents, Todd believes this line of crafts is launching at a perfect time. It's a time when many families could use a little extra creative spark and, maybe, an excuse to laugh together about a fluttering fairy or a silly monster.
Need more crafty inspiration? Check out the Smarts & Crafts kits tutorials.