New York truck driver Tim Burnett always puts safety first.
Tim Burnett, a Walmart truck driver in Marcy, New York, didn't think much of it when his supervisor sent him on an errand. But when he returned, he was welcomed by a banner along with family and friends cheering. That's when Tim found out he'd officially made it to 3 million accident-free miles!
This impromptu celebration in June 2020 illustrates exactly what Tim loves about working at Walmart: the people. His retired colleague Donnie, the first Marcy driver to reach 3 million miles, visited from Ohio with his wife. Nate from the main office was there, along with Tim's transportation manager.
"You work with these people, you grow with them, you know their families, and you share their success," Tim says.
Tim is better known by many at Walmart as Mr. Tim. "It became my CB handle at my previous job. I really couldn't come up with a handle that I liked, so I just went by Tim. Slowly but surely, people added Mr. in front of it and it stuck with me!"
Expertise and Safety
During close to 30 years driving for Walmart, he's gained impressive experience driving a variety of equipment and he takes pride in his expertise.
"I was involved in the operation of tandem 48-foot double trailers which really taught me the importance of having a solid routine, taking my time and getting a good visual when hooking up and breaking apart doubles!"
He estimates that out of 3 million safe miles, nearly 1.8 million were driving with a second trailer tagging along on the NYS Thruway between Utica, New York, and the Buffalo region of New York. Tim also guesses that there were over a thousand "hooks" and "breaks" of double trailers each year.
Tim credits the culture at Walmart for his safety triumph. "My first safety man in Pennsylvania said you drive the way you feel. You feel good; you drive good."
He appreciates the advances in technology that Walmart has made as well—the collision mitigation systems and the blind spot technology. "You incorporate that and a strong support system, and you've got some pretty good fundamentals to have a safe driving career."
The Legendary Blue Tractor
The sparkling blue tractor Tim earned as a reward for those 3 million safe miles will sport these safety features along with leather seats, a driver's lounge, a microwave and more. The truck's specifications were laid out by Jeff Byrne, who was shop manager in Woodland, Pennsylvania, in 1993 where Tim started, something that makes them both laugh. "We sure have come a long way in our careers, haven't we?" Tim jokes.
Tim took his new wheels out for the first time on Nov. 30, 2020.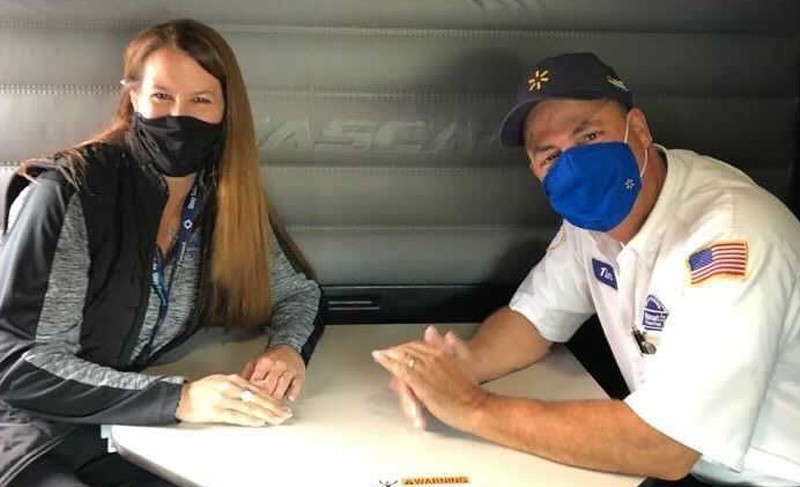 What's next for Mr. Tim? Appreciation. "I'm forever grateful for those that opened the door for me and believed in me and gave me the opportunity to drive here. I don't know if a thank you really does it justice."
He also has his sights set on his next goal. "I heard about another Walmart driver who reached 5 million miles. The competition is on!"