Here's a behind-the-scenes look at what goes in to making a Walmart store bagless!
Walmart associates in Vermont are taking part in an exciting new pilot program that will revolutionize how customers get their groceries. On Feb. 15, Walmart stores in the Green Mountain State went completely bagless!
During summer 2020, stores in Vermont had shifted toward using paper bags instead of plastic bags. This latest change means they will no longer be providing customers with single-use bags in any form. It's a big change that will not only impact the grocery-buying process, but also help the environment. (Single-use plastic bags continue to be one of the top ten items found along beaches and waterways, and fewer than 10 percent of them are recycled in the U.S.!)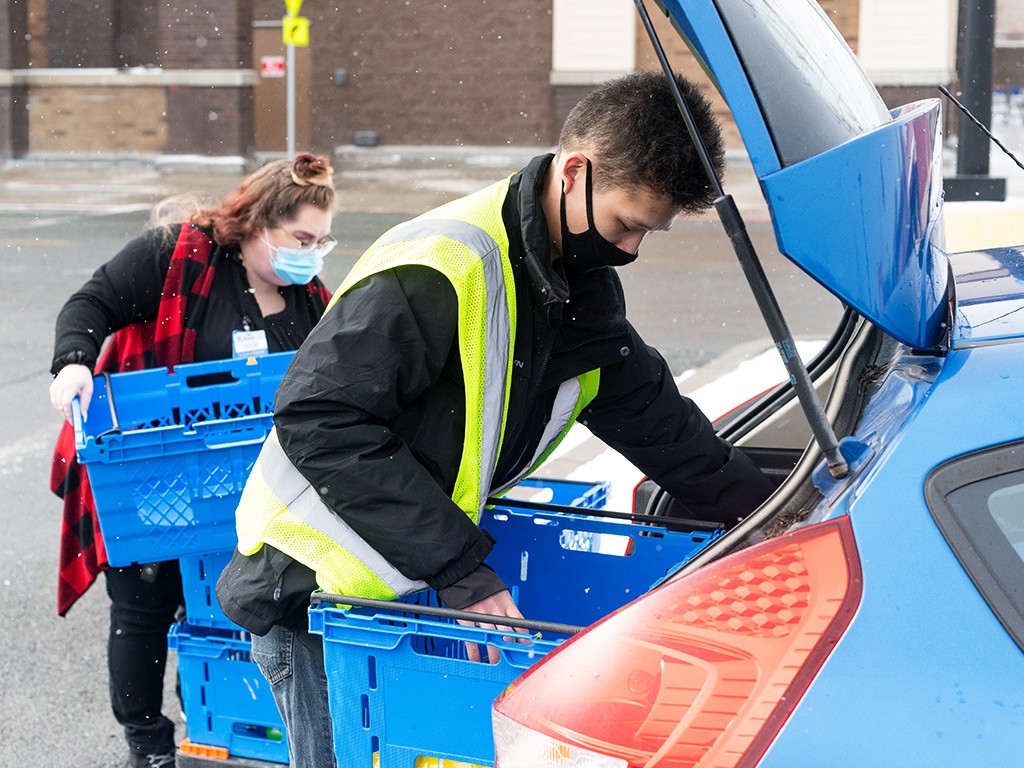 3 Benefits to Going Bagless
We connected with Cassie O'Toole, store manager at Store 2289 in Bennington, Vermont, to learn what bagless shopping means for her team and customers.
Supporting sustainability. "The change is going to do so much for the state of Vermont," says Cassie. Suzanne Cole, a manager for Walmart's Realty Supplies and the project manager for this pilot, agrees. She explains that paper bags actually require a lot of natural resources to produce. Plus, the transportation required to get them to stores creates substantial pollution.

Cassie also points out that this bold move makes her truly feel a part of Walmart's big-picture environmental goals. "When the company talks about sustainability goals—whether it's 100 percent renewable energy by 2035 or zero operational waste in the U.S., by 2025—this is one that me and my team are able to say, 'Hey, we are a part of this,'" she says.


Faster, easier OPD. Cassie admits the switch from plastic to paper bags was confusing for some shoppers and caused slowdowns in the pickup lines. And she expects bagless to speed up the checkout process and make life a little easier for customers and associates during online pickup and delivery (OPD).

"Hopefully it will make the OPD experience faster for the associates and less tedious, because now we'll just be going straight into totes unless it's produce or meats," Cassie says.


Endless options. The bagless pilot offers customers options for transporting their groceries. They can bring their own reusable bags, or they can opt not to use a bag at all. Some shoppers may decide to use laundry baskets, boxes or crates.

At Cassie's store, they prepared customers for the change to bagless using posters and signs. She's grateful that the official switch took place on a Monday and not on a busier day. Plus, it gave her team a chance to remind shoppers over the weekend.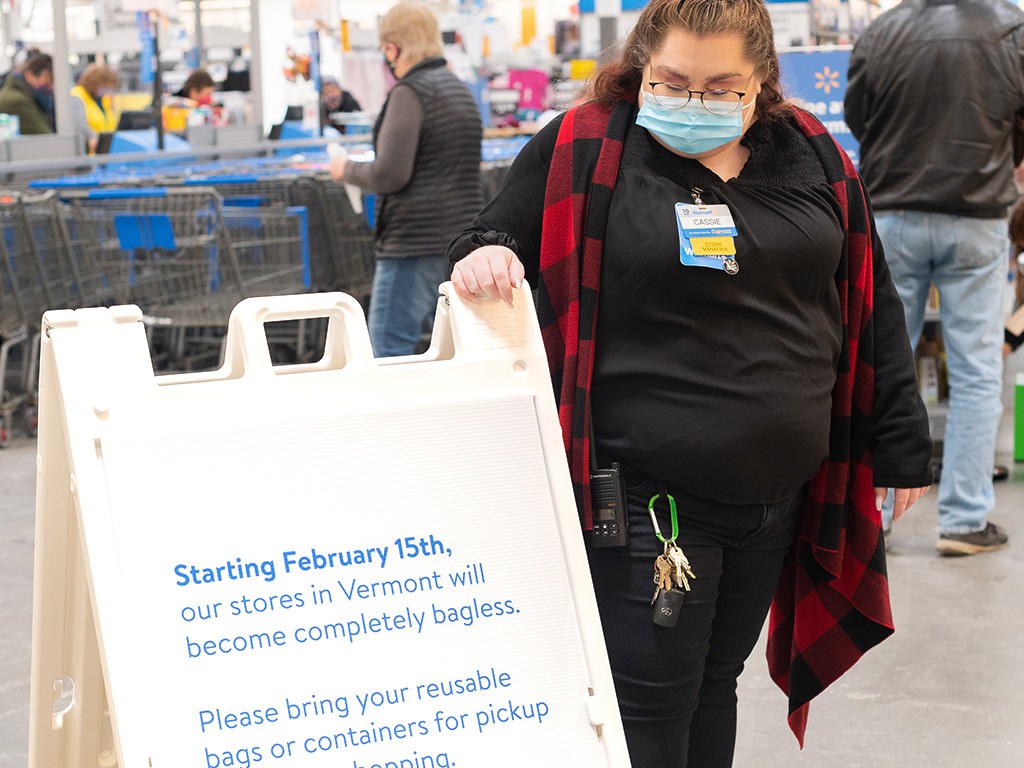 Vermont stores are making sure they have reusable bag options on hand for customers who don't have bags already, with choices starting at 50 cents. Freezer bags will also be available for purchase, and stores are stocking up on baskets, totes and even wheeled carts for customers who take public transportation or walk.

On the Frontlines of Change
If the pilot is a success—meaning, if it works well for associates and customers—it could be expanded into other markets. Anna Vinogradova, Walmart sustainability director, says the company is looking to Vermont's stores and associates to teach us what "we need to know about expanding."
Pilot leaders are optimistic: Before the pilot was launched, surveys showed 78 percent of Vermont customers were in favor of going bagless.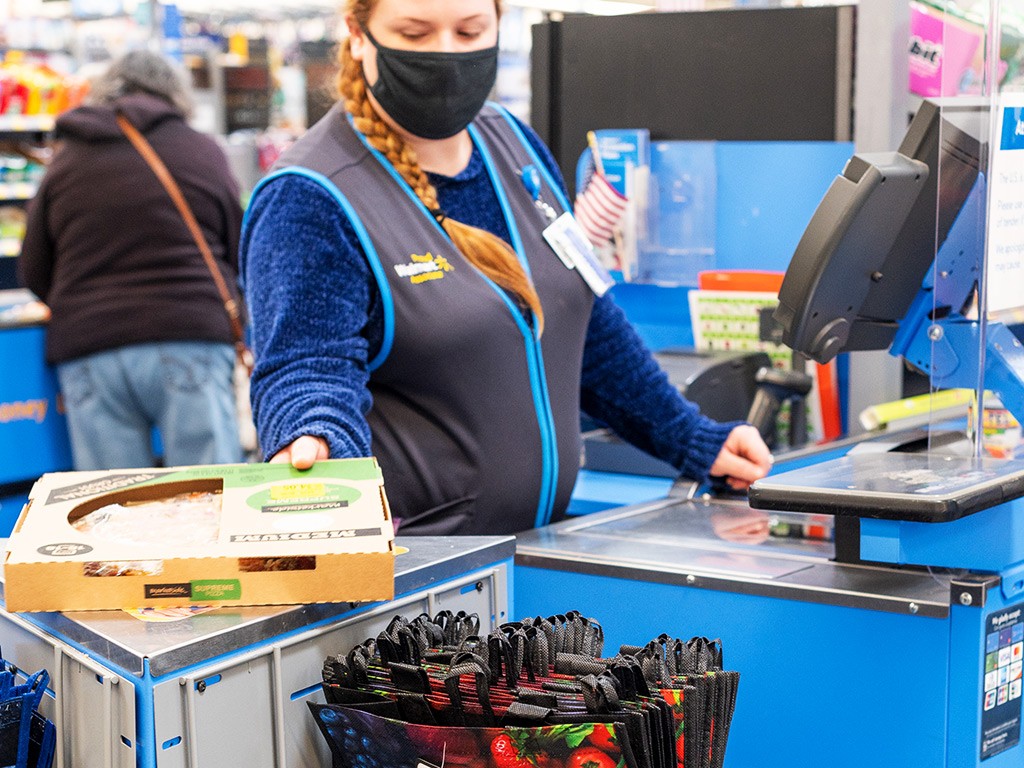 So, as Vermont associates figure out the day-to-day details of going bagless—how cashiers will deal with carousels, for example, and whether extra shopping carts will be needed at the front end on busy weekends—everything they learn can help other stores move forward with their sustainability efforts.
Suzanne says Walmart will be talking to associates and customers to evaluate how the program works.
"We're going to be doing surveys and calls with associates to go through everything—what they liked, what they didn't like, how they were prepared. We're also going to survey customers and monitor social media," she explains. "Feedback from all fronts will help shape the future of this initiative."
Suzanne expects competitors to follow where Walmart leads. She says the company is already collaborating with other leading retailers like Target and CVS Health as part of the Consortium to Reinvent the Retail Bag. In February 2021, the group announced winners of its "Beyond the Bag" Challenge, a global contest that invited individuals and companies to submit alternative ways for shoppers to transport goods.
"It's an interesting experience to be on the frontlines of this," Cassie says of the pilot. "To know that my store and my state are going to be creating little to no plastic bag waste, essentially, at the store level is a pretty fun thing to think about."