Zacchary Ellis reminds us that even the smallest acts of kindness have a big impact.
For Zacchary Ellis, helping customers is part of his job. But for one family, Zacc went above and beyond his job responsibilities on a summer day in 2019.
That July, Zacc was an assistant manager at Store 1778 in Cody, Wyoming. Some customers came in looking for a wheelchair but, due to an ongoing remodel, no wheelchairs were on the shelf. Zacc went to help.
Fulfilling a Promise to Dad
The customers were Brian Locke and several of his brothers. They were visiting from Wichita, Kansas. The Locke brothers—all six of them—were in town fulfilling a promise to get their dad back to Cody for a fishing trip.
Larry Locke and his sons had been making an annual trip to Cody to fish for years. But in 2018, the trip had to be canceled when Larry was diagnosed with cancer. The toll of chemotherapy and surgery wore him down, but Larry's sons kept him going with a promise to return to Cody in 2019.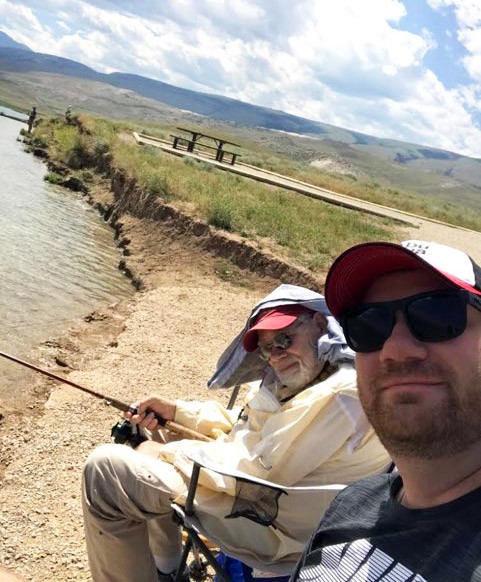 Though Larry's health was failing that summer, his family was determined to make the trip. On their first day there, the brothers made do by carrying their father down to a fishing spot in a lawn chair. At the end of the day, they stopped at Walmart to look for a better solution.
Zacc says he scanned the store shelf and finally found a wheelchair in the backroom. He brought it up front, but the Lockes were unsure. Would it work on the terrain? Zacc took the wheelchair out of the box and unfolded it so the family could check it out further. Satisfied, the brothers bought the wheelchair and went on their way.
Just an Everyday Thing
Zacc usually doesn't hear again from customers he helps.
"If I'm being honest, it's like a daily thing—just customer service," says Zacc, who is now a stocking coach. "I didn't really think anything of it."
Then, in December 2020, the store received a note. It was from Brian Locke.
"Zacc went above and beyond to help us, and we can't be thankful enough to him!" Brian wrote. "We used the wheelchair to get my dad down to the North Fork Shoshone River and Luce Lake, two of his favorite fishing spots. Our dad died the next day, but we are forever grateful to Zacc for helping us make his last days a great and memorable experience!"
Zacc says Locke's gratitude has brought home to him the impact his daily interactions with customers can have. "I'm sure I help 1,000 customers a day exactly like that, and just never realized how that makes the other person feel."
Zacc, who is married and has a 3-year-old daughter, says speaking with customers is one of the most rewarding parts of his job. After working at Walmart for five years, he left for a year to work elsewhere, then returned about five years ago.
"I missed the customer interaction," he confesses. "I enjoy those interactions and trying to help them."
We are so glad you returned to the Walmart family, Zacc—and we're guessing the Lockes would agree!