At the Arkansas Trucking Association's Trucking Championship in 2019, Walmart truck tech Brianna Luckman made history.
Fasteners. Periodic Maintenance Inspections. Trucks. Walmart associate Brianna Luckman is very familiar with them all.
The Arkansas Trucking Association puts on a Trucking Championship every year. It's a chance for the best technicians to showcase their skills. This year, Luckman made history.
"They asked people who were new to stand up so I stood up and, I mean, it was pretty easy to tell I was the only lady," said Luckman.
Not only was she the only female competing, she was recognized as the first female to win a station in the history of the Arkansas Trucking Championship! She earned first place in Fasteners and second place in PMI (Periodic Maintenance Inspections). She actually had a perfect score in the PMI, but got beat out by time.
"They test your knowledge and skills through a bunch of different tests and procedures. I actually didn't get to go to the awards ceremony. I had to pick up my son. So when my boss texted me and told me that I won a station, I kind of was in disbelief."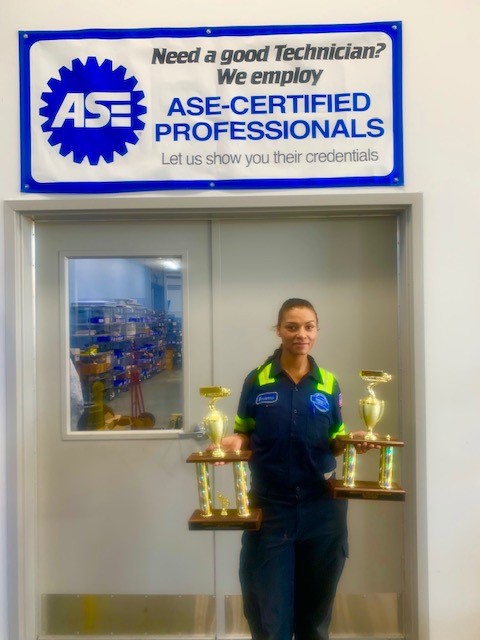 Luckman shared she recently had her first child, who is 15 months old. When asked what it's like working in a male-dominated field as a woman and mother, this was her response:

"I worked here until I was like 38 weeks pregnant. It was a lot to overcome, you know? Just to be able to come to work every day and show these guys not only am I doing this job with you but I'm also creating another human at the same time, that to me was pretty cool."
Luckman served as an Aviation Electrical Tech in the Navy, was recruited as an intern for Walmart, completed the internship with high scores and was placed into a PM Tech position. She was the Student Grand Champion in the 2017 Walmart National and represented well at the 2017 ATA Nationals in the Student Competition in Orlando.
"When I was in technical school, every day when I got up I would sit there in my bed and just be like, 'I'm going to quit. I'm done. I'm not going today.' But for some reason I just got up and kept going. You just got to go out there and give it your best."
She is now continuing her education in collision repair and knows her team at the 6701 Truck Shop in Bentonville, Arkansas, has her back.
"Walmart gave me the additional training that I needed. They're also allowing me to go back to school. I'm really grateful Walmart is willing to work with my work schedule to do that. It's also reassuring to know that my boss also thinks that I can do this. Not to be cliché, but be the change that you want to see."
To learn more about our Fleet Maintenance team, click here.